It's DISH vs. CBS and Kaley Cuoco is in the middle of it all because of a tweet.
"The Big Bang Theory" star Cuoco sent out a tweet on February 27 endorsing the satellite cable provider's Hopper service. CBS is currently locked in a battle with DISH over the Hopper's ad-skipping capabilities.
The tweet has since been deleted and DISH is accusing CBS of forcing Cuoco to remove the sponsored tweet. The Wrap was the first to report on the sponsored tweet.
"It's disappointing that CBS -- once the exemplar of editorial independence and innovation -- continues to use its heavy hand to hold back progress from consumers," Joe Clayton, DISH president and CEO, said in a statement.
According to DISH, in the few hours Cuoco's tweet was live, it received thousands of clicks.
"Clearly, with this kind of response, consumers have a true interest in the types of innovations the DISH Hopper offers," Clayton said in a statement. "It's a shame that CBS, despite its legacy, feels it needs to thwart this kind of consumer demand."
Request for comment from Cuoco's representative was not immediately returned.
UPDATE: CBS provided a statement: "Once again, Joe Clayton demonstrates his dubious gift for hyperbole and hucksterism. No demands were made, but it's clear that Dish's culture of fabrication is alive and well."
DISH provided a screen capture of the deleted sponsored tweet.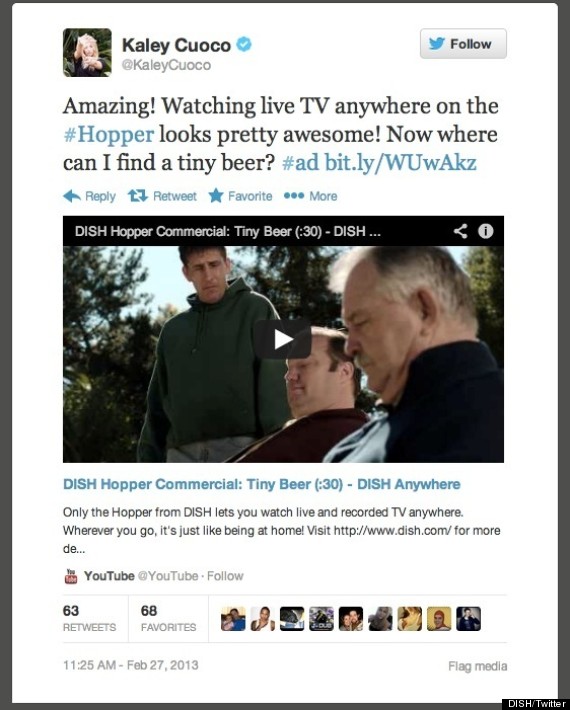 PHOTO GALLERY
2013 Renewal Index: Canceled, Renewed & On The Bubble Shows
BEFORE YOU GO