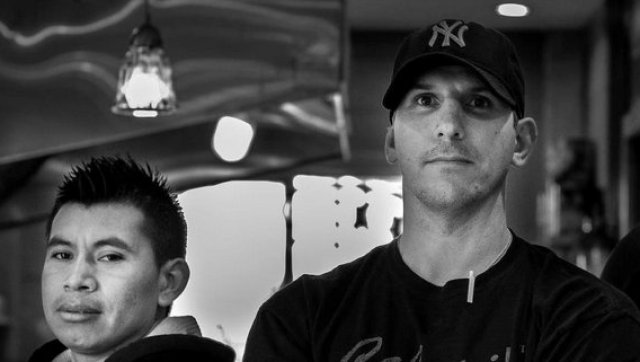 You know that bursting-at-the-seams rush of excitement you get when you discover a little-known eatery? The kind you can hardly contain to the point where you're texting your friends with still-greasy fingers? I recently received an e-mail in that spirit from my brother in Seattle, and he made a pretty simple suggestion that got me thinking:
I just had the best cheesesteak I've ever tasted. It was from a place called Calozzi's that just opened right next door to Boeing. The guy came out to the parking lot to greet us and learn our names, taught us how to order, how to cook the steaks, talked sports (he's a Yankees fan), and the steaks just melt in your mouth and ooze with cheese and flavors. I can't even believe how fat I'm going to get now.

You should do this guy a solid. He deserves it. He's in a tiny, tiny place in a rough neighborhood but he's a hard worker and treated us like we were the only customers on earth.
So guess what? We're going to do this guy a solid, because he probably does deserve it. And you know what else? We want to do all of your favorite small food businesses a solid. That's why we're asking for your help.
In case you haven't noticed, we here at HuffPost Taste are fans of the little guy. Our favorite eateries aren't found in the Zagat guide; they're the hole-in-the-wall diners and the taco trucks on the corner. Some of our close friends run small food businesses, so we understand that these ventures are only made possible through insanely hard work and a deeply masochistic love for the craft of making food. These lovable lunatics rarely get the credit they deserve, so that's about to change.
We want you to tell us about the small business owners in your neighborhood that deserve a little recognition. Send us your stories about how these people make your community stronger, whether it's through their good deeds, hard work, great food, or even just their friendly smile. We'll feature them right here on HuffPost Taste (and then obviously you'll frame the article for them to hang on their wall, right?).
Send your stories (preferably with a photo) to taste@huffingtonpost.com. Please include the name, location and contact info for the business along with your stories.
PHOTO GALLERY
Good Food, Good People