A junior state legislator in Idaho wants to change the state's constitution in a way that makes all adults eligible for enrollment in militias as a way to resist federal attempts at gun control.
State Sen. Jim Rice (R-Caldwell) said at a Senate State Affairs Committee on Wednesday that changing the definition of who is eligible for militia enrollment would keep the federal government from taking weapons away from Idahoans, according to the Associated Press.
"It gives the state standing to defend [gun rights] if the federal government were to ban weapons," Rice said, according to the Idaho Press Tribune. "It would be a very good argument that we would probably win in court if the feds were to attempt to endorse anything."
A photo of Sen. Jim Rice from his Facebook page shows him firing a Thompson sub-machine gun: (Story continues below.)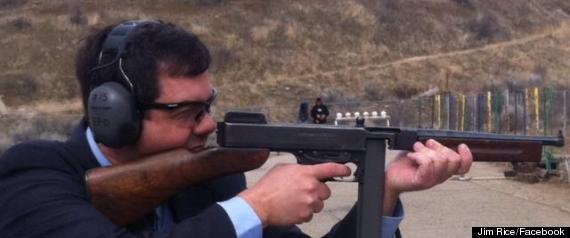 Right now, the Idaho State Constitution says that only men between the ages of 18 and 45 are subject to militia duty. But the new proposal, which Rice plans to have included on the 2014 ballot, would eliminate the age and gender requirements so that anyone over age 18, including women, would be eligible for enrollment.
Rice said on his blog that he would attempt to have the proposal approved by the state congress in the next legislative session so it could be on the 2014 ballot, and that he is discussing the constitutional change now to get the conversation started early.
Rice, a bankruptcy lawyer who was appointed to the state Senate just last year, has shown his libertarian colors before. When he was running for office, he spoke in favor of abolishing Idaho's personal property tax, and earlier this month he advocated in favor of a bill that would limit how and when drones can be used by law enforcement to gather evidence for criminal cases.
But there's one crucial way that Rice welcomes government intrusion into the private lives of Idahoans: abortion.
Rice voted for a bill that was sponsored by another lawmaker who recently caused a stir with his controversial comments about rape. The bill would require women to have ultrasounds before they terminate a pregnancy; it passed the state Senate but was later pulled from the House of Representatives.
(Hat tip, Think Progress)
BEFORE YOU GO
PHOTO GALLERY
Pivotal Moments In The Federal Gun Control Debate