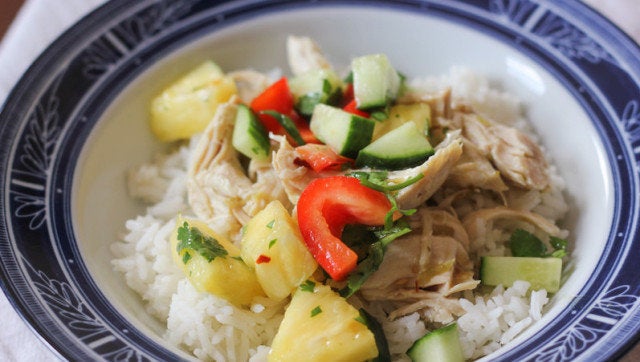 If you're not familiar with the concept of a rice bowl, it is going to blow your mind. The rice bowl is the ultimate in "I don't have time to make dinner, but don't want to eat out" dining solutions. There is nothing complicated about the rice bowl. It isn't a ground-breaking concept. But it is genius in its simplicity.
This is how the rice bowl works. You start with a bowl of rice. Instant rice will serve you best in this situation because it can be made so quickly. You can also use leftover rice here if you have it on hand -- the rice bowl is a great way to use up leftovers.
Once you have your bowl of rice, you're already half way done (simple isn't it?). All you have to do now is top it. We like to take the rice bowl as an opportunity to clean out the fridge. Have leftover chicken? Add that to the bowl. A couple of carrots lost in the bottom of the crisper? Grate them and add them on top too. Of course, you want to be sure to add flavors that will mesh. For example, if you're topping your bowl with guacamole and leftover beans, we recommend sticking to those Mexican flavors.
The great thing about the rice bowl is that no two bowls are the same so you never get tired of it. You could eat a variation of it every night of the week if you wanted. And, you can easily add a dose of protein by topping the rice bowl with a fried egg. Dinner has never been this easy.
Have five more minutes for dinner? Try these recipes.
PHOTO GALLERY
15-Minute Meals
BEFORE YOU GO