In a bizarre measure of (what we hope is) a recovering economy, the results of a survey published Wednesday found that the average amount the Tooth Fairy leaves under the pillows of America's children increased by more than 15 percent from the year before.
The Original Tooth Fairy Poll, which has been conducted by the nonprofit group Delta Dental every year since 1998, surveyed more than 1,200 primary caregivers across the country and found that the average gift from parents to a child who lost a chomper jumped from $2.10 in 2011 to $2.42 in 2012.
The Tooth Fairy Poll website features a graph that compares its annual findings with the Standard and Poor's 500 index, a diverse group of stocks that often acts as a bellwether for the overall market.
(Story continues below)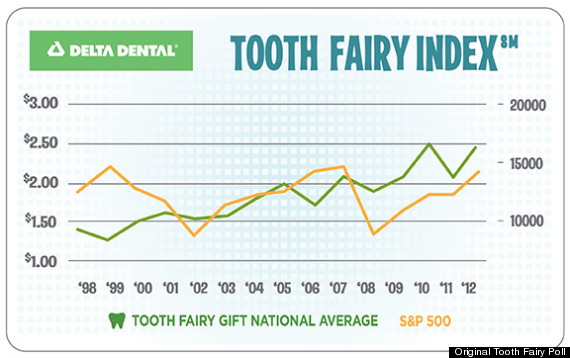 The good news is that because the two graphs appear to (roughly) follow the same trends, it's possible the survey results are a good sign for the overall economy. (You can also view the performance of the S&P 500 over the past decade on MarketWatch if you don't want to take the Tooth Fairy Poll at its word.)
The 15.2 percent increase from 2011 to 2012 is actually slightly higher than the Standard and Poor's increase of 13.4 percent over the same period, so it's possible the Tooth Fairy may have been overly generous last year.
The Original Tooth Fairy Poll, as its name might suggest, isn't the only measure of what parents give their children each year when they lose a tooth. Credit card company Visa Inc. published a survey in September that found a 15 percent increase in average gift amount from 2011 to 2012 -- just 0.2 percent lower than the Tooth Fairy Poll's results.
(h/t UPI)
BEFORE YOU GO
PHOTO GALLERY
9 Unexpected Economic Indicators