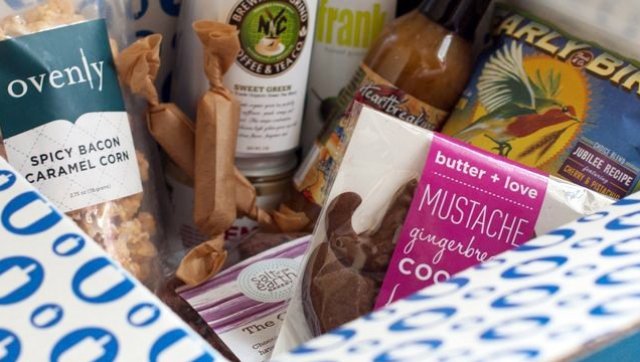 Have you ever wished that you could pay a personal shopper to do all your nerdy searching for specialty artisanal foods, then deliver it to your house once a month, making it seem as though you just know about all the best stuff all the time?
Well, consider the Fancy Food Box your specialty food CSA from the heavens. For $39 a month (not including shipping), here's what you'll get: "Each Fancy Food Box includes five or more food products -- anything from cookies and chocolates to teas and sauces -- along with a selection of tasty recipes and pairing suggestions."
If we're being honest, we have to say that what we love most is the thrill of the chase. We love to spend our weekend afternoons meandering in and out of every small market that crosses our path, but not everyone is the same. Maybe you love handmade cookies and locally-grown teas, but you just don't have the time to futz around in delis and bakeries and general stores. The Fancy Food Box subscription is for you then! In fact, you'll probably love all of Fancy's user-curated stuff. This cross-between Pinterest and Gilt lets users collect all the cool stuff they love and buy it all in one place.
We hear the hearts of e-commerce fanatics going pitter patter. What do you guys think? Will you pay someone to do your dirty (shopping) work, or are you in it for the hunt? Let us know in the comments!
Want to read more from HuffPost Taste? Follow us on Twitter, Facebook, Pinterest and Tumblr.
BEFORE YOU GO
PHOTO GALLERY
Our Favorite Food Gifts From Etsy