Kim Kardashian has always been curvy, but as her pregnancy progresses she's found that her assets are rapidly growing (as they are expected to).
The reality star has worked hard over the years to stay fit, but she's been hitting the gym religiously since becoming a mom-to-be. Though the 32-year-old has claimed she's prepared for the weight gain that comes with pregnancy, telling Cosmopolitan her weight " [will] definitely be up there," she might be having a hard time letting go of her former slimmer physique.
On Thursday, Kardashian posted a photo of herself looking quite thin in a black tank top and leggings, which dated back to her 2008 stint on "Dancing With the Stars," and also posted a photo she took of herself in costume before going out to perform.
"#tbt another dancing throwback! Me leaving dance rehearsals #IWasSoooooSkinny," the reality star star wrote along with the photos on her Instagram account.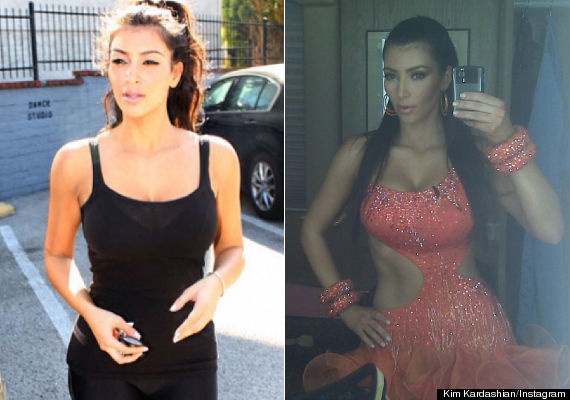 In case you forgot, Kim appeared on the seventh season of "Dancing With the Stars," with Mark Ballas as her partner. Though she may have the curves, she didn't quite know how to shake them, and was the third contestant to be voted off.
BEFORE YOU GO
PHOTO GALLERY
Kim Kardashian's Hottest Moments