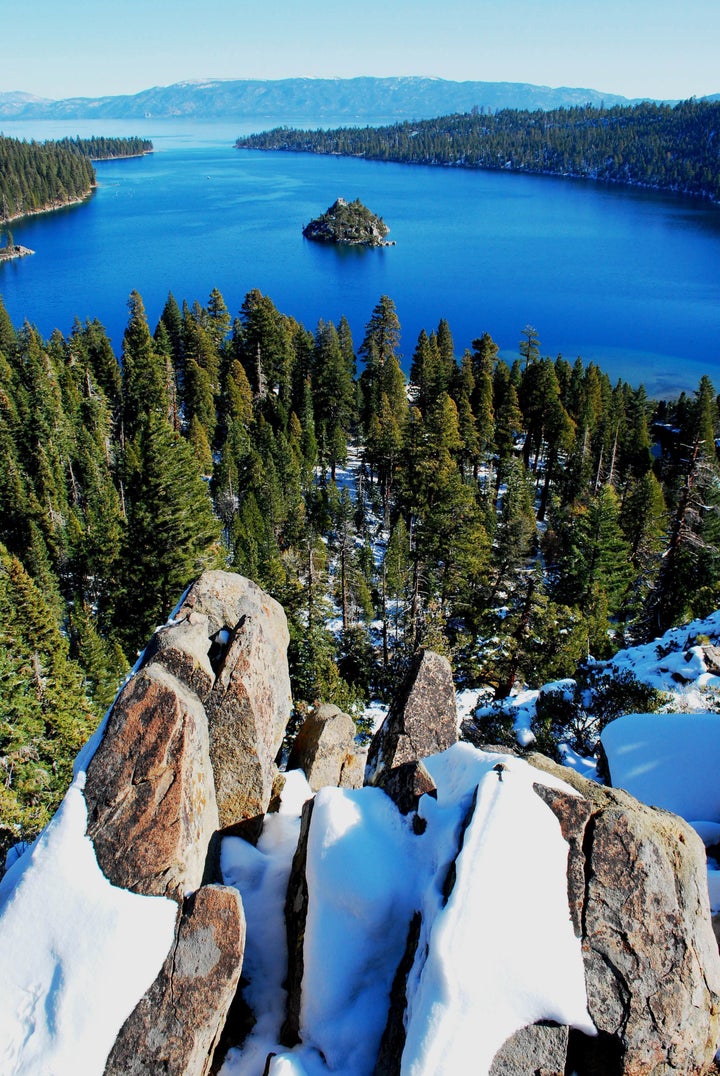 A recent trend in improved water clarity at Lake Tahoe has scientists and regional agency planners confident that 15 years of environmental measures are beginning to bear fruit.
Last year's annual average clarity depth at the lake was recorded at 75.3 feet -- more than an 11-foot improvement from the all-time worst recorded in 1997, according to data from the UC Davis Tahoe Environmental Research Center.
A series of measurements -- recording the depth at which a 10-inch white disk can be seen -- is taken between December and March to establish a winter figure, and another series between June and September to get a summer figure. All of the readings are averaged to determine the annual figure for lake clarity.
Clarity readings for summers typically are lower than for winter, and in recent years have been much lower. The three shallowest depth recordings taken since 1968, when record-keeping began, have been summer readings in the last five years.
In 2012, however, the lake's summer average clarity level was 64.5 feet, a marked improvement from 2008 when an all-time low was recorded -- at 50.4 feet.
Clarity depth is considered a key barometer in establishing the level of pollutants at the lake, most of which enter the lake from stormwater runoff, including flows from streets, farms and other development.
Data from clarity measurements is an important tool for agencies in crafting land-use management and ecosystem restoration efforts in the Lake Tahoe basin.
Despite the generally poor numbers in the summer, the view is that clarity at the lake is headed in the right direction, said Kristi Boosman, spokeswoman for the Tahoe Regional Planning Agency.
"One of our big goals has been to try and stabilize the declines," Boosman said. "Stabilizing an ecosystem that has been under as much stress as the Lake Tahoe basin really takes some time. We're starting to see the implications of that now."
She said 75 percent of marshes around the lake have been affected by human development.
Boosman contends that the deeper clarity levels seen in 2012 may be the latest outgrowth of a 1997 Environment Improvement Program at the lake. That program cost $1.6 billion and became a multiagency, multistate and stakeholder effort.
That program has put into place erosion control for more than 577 miles of roads and restored 151,000 acres of wildlife habitat in the Lake Tahoe basin, she said.
Boosman said if clarity numbers are to continue improving, old construction at the lake will have to adopt better stormwater runoff practices.
"Seventy-two percent of the particulate matter that goes into the lake comes from old buildings and old infrastructure," Boosman said.
Those buildings and constructed areas date mostly back to the boom at the lake that followed the 1960 Winter Olympics at Squaw Valley, she said. "We're living with the impacts of that old legacy development."
Boosman said recent construction at the lake is required to meet certain standards in the handling of stormwater runoff.
Boosman said such practices will allow the agency to meet clarity depth goals. The eventual goal is to achieve an annual average clarity depth of 97.4 feet by 2076.
But big challenges remain. It has not been established how the problem of diminished clarity during the summer months will be approached. The culprit in the those numbers is spring runoff from snowmelt, said John Reuter, research ecologist with the UC Davis Tahoe Environment Research Center.
Despite the low clarity numbers seen during the summer months recently, the level improved in 2012 -- with a depth increase of 13 feet. "But, we're hesitant to make any conclusions based on any one year," Reuter said.
Even so, last year's improved clarity may signal there is hope that Lake Tahoe's deep blue waters will someday return to the 102- foot level recorded in 1968.
"The whole point of all the restoration going on at the lake is to make adjustments to the landscape, with revegetation to mimic what the natural environment would have done before there were roads and homes there," Reuter said.
But restoration and stormwater runoff efforts will have to accommodate the latter-day effects of climate change, he said.
Climate change models suggest higher winter temperatures will visit Lake Tahoe and cause decreased snowpack levels -- and frequent intense rain events. Some drainage systems may not be able to accommodate the faster and stronger runoff.
In a 2008 UC Davis study on how climate change may affect the Tahoe basin, it was predicted that decreased snowpack and rainy winters will have a marked effect on lake clarity and water quality.
Some, like hydrologist Robert Shibatani, say the effects will be dramatic.
"No other area in California will experience the kinds of observable hydroclimatic effects associated with climate change as the Sierra Nevada," Shibatani said.
In a 2012 report, Shibatani contended that, by 2020, Sierra snowpack levels could average as much as 50 percent less than they do today.
Call The Bee's Edward Ortiz, (916) 321-1071. Follow him on Twitter @edwardortiz. ___
(c)2013 The Sacramento Bee (Sacramento, Calif.)
Distributed by MCT Information Services
BEFORE YOU GO