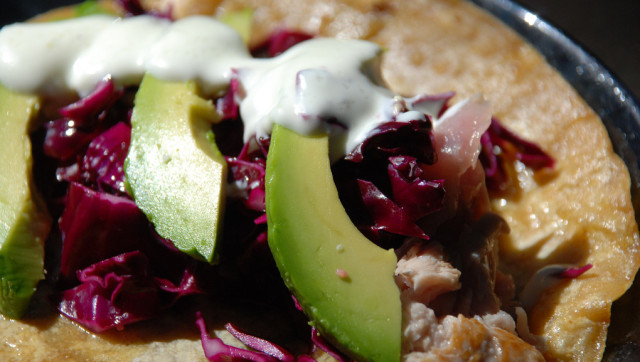 Fish tacos are perfect in a pinch. Actually, let's be honest, fish tacos are perfect pretty much any time. That they can be prepared in under 10 minutes is just icing on the cake (or cabbage on the taco). If you've never prepared, or, dare we say it, if you've never even eaten fish tacos, listen up!
Fish tacos can, of course, be made in a number of ways. There are a multitude of adequate types of fish, tortillas and add-ons. We prefer tilapia for its more neutral flavor and relative inexpensiveness, however, we do suggest that you splurge on fillets that weren't farm-raised. We also recommend corn tortillas over flour -- we're not allergic or opposed to gluten, but the sweetness of the flour tortillas is distracting. We like to top our fish tacos off with cabbage, diced tomatoes, avocado and a homemade chipotle sour cream.
As we mentioned, fish taco recipes are quick and easy. You can buy chipotle sour cream, or make your own by combining sour cream, chipotle chiles, and lime juice. We don't like to bread or fry our tilapia fillets, but that's always an option. Instead, cut them into strips and season them with cumin, chili powder, black pepper, and lime before sautéing them for about five minutes, or until the fish flakes easily with a fork. You can prepare the tomatoes, cabbage and avocado while the fish cooks.
All that's left is to slap the fillets and toppings on tortillas, and you have yourself an easy, tasty dinner. Hint: If you prefer warmed-up tortillas, it's as easy as popping them in the microwave with a paper towel in between each one.
Want to read more from HuffPost Taste? Follow us on Twitter, Facebook, Pinterest and Tumblr.
Have five more minutes for dinner? Try these recipes.
PHOTO GALLERY
15-Minute Meals
BEFORE YOU GO