Brooklyn may have been home to Bohemian artists for even longer than we thought. According to the New York Times, Brooklyn's newest mysterious "It girl" is a 400-lb. stone sculpture discovered in the shadows of the Brooklyn Bridge last year. Scholars are looking into the story behind the armless statue, named "Ginger" because she was found nearby the site of former spice warehouses.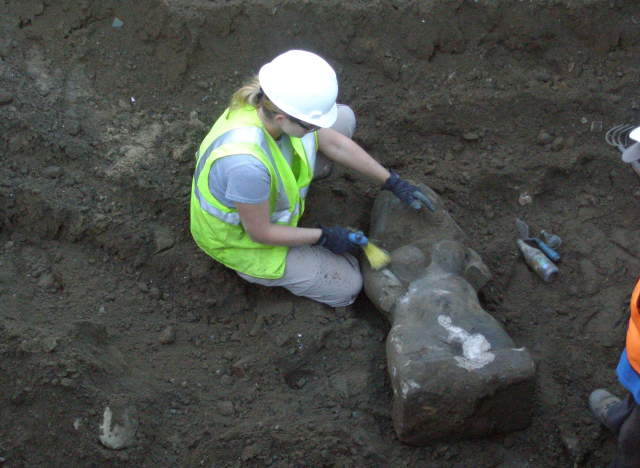 Ginger and Faline, courtesy Historical Perspectives Inc.
"Ginger is a total surprise," archaeologist Cece Saunders of Historical Perspectives Inc. told the New York Times.
The intriguing stone sculpture was unearthed from decades of DUMBO rubble by local developer Two Trees Management Company, who was creating mixed-use tower at the time. She currently resides in the Two Trees office building until more details about the armless goddess are revealed.
Details regarding Ginger's past remain murky, although we are pretty certain she is not one of the original Spice Girls, despite the fact that, as Two Trees development manager Hale Everets told Blouin Artinfo, "everybody kind of lights up when they see her."
The New York Times reports that scholars believe the three foot tall, curly-haired goddess could have served as a brothel advertisement or ship ballast in years past. Through analyzing flecks of paint in Ginger's hair, scientists hope to find out more about the sculpture's age and creator.
This isn't the first time unexpected archaeological finds have been unearthed amongst the trendy New York borough, however; according to Architectural Archive, a 500-lb stone jaguar head was found in a Brooklyn garage in 1999.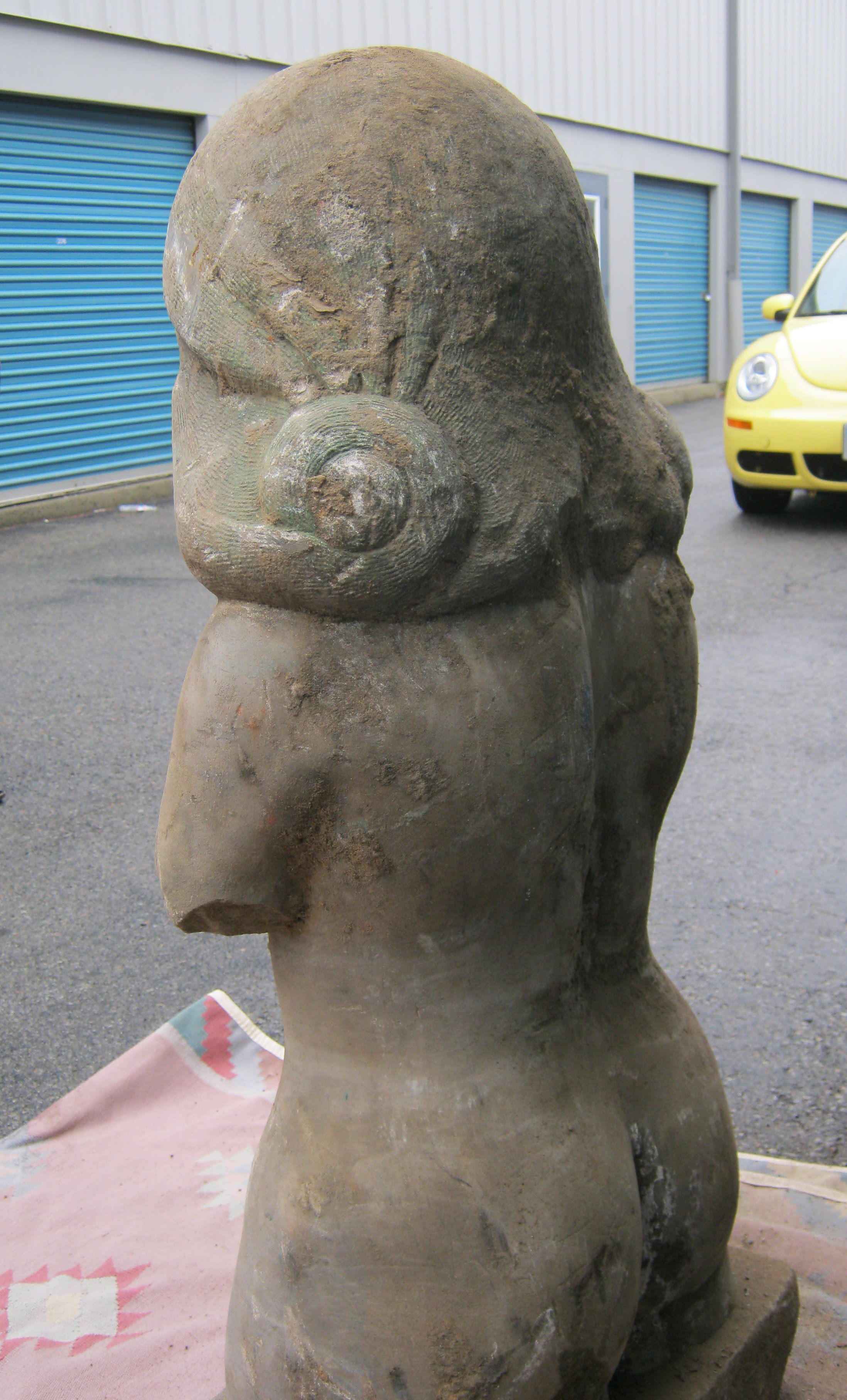 Ginger from behind, courtesy Historical Perspectives Inc.
MORE ARTS NEWS:

Start Your Week Off In Vogue: Legend Dashaun Wesley shows us how it's done. (NOWNESS)
Occupy Opera: Chiara Botticia explains how soap operas have replaced operas in modern culture, which isn't necessarily a bad thing. The dying art form of classical opera, she argues, is being kept alive by a particular cultural group... snobs. "Be they sophisticated intellectuals with their notorious necrophilia for objects of the past or super-rich magnates who need to put the new red dress of their girlfriend in display, in both cases, they are people who want to distinguish themselves. Opera is an occasion for distinction." (Al Jazeera)
Are We Allowing Great Art To Disintegrate?: Britain's beloved murals are being lost to the building boom as schools and malls threaten public artworks. "We are losing a whole chapter of our art history." (BBC)
Invisible Artist Heads To TED: Chinese artist Liu Bolin, the art world's classy version of "Where's Waldo," is slated to give a TED talk on his knack for disappearing in plain sight. We're sincerely hoping he will give the talk while camouflaged as the TED backdrop. (TED blog)
PHOTO GALLERY
Liu Bolin, Chinese Artist and 'Invisible Man'
BEFORE YOU GO