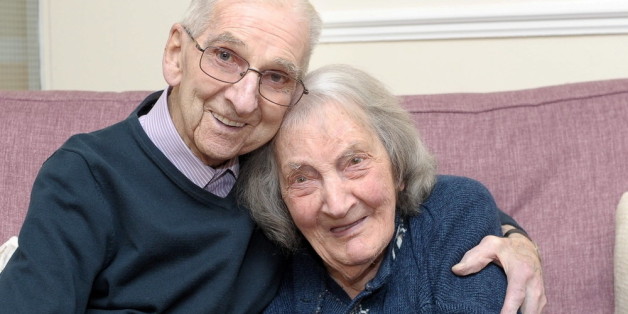 Ninety-one-year-old Jack Potter has always taken extra care to hold onto his memories. From a quick mention of writing a letter to a friend to recording a nice evening spent in, Jack has been taking notes of all his days since he was a boy.
Little did he know that this habit of his would one day be of great comfort to the love of his life.
At a wartime dance in 1941, Phyllis Clayson walked into Jack's life and took on a starring role in his daily diary. "I remember going home and scribbling down that I had met her in my diary, it sticks in my mind because I suppose it was a life-changing moment," he told the Daily Mail. They married just 16 months after they met and spent more than 50 happy years together at their home in Rochester, Kent.
Phyllis, now 93, has since moved into the Copper Beaches care home nearby where Jack visits her every day.
He uses his diaries to rebuild her recollections and to help her overcome her struggle with dementia. "I wrote down in my diaries all of our stories and our in-jokes," Jack told the Scottish Express. "I often take the diaries of our time caravanning and show her the pictures, she enjoys that."
He continues to keep track of daily activities to keep Phyllis updated: "I take her pictures of her dogs ... to keep her up to date with everything around her."
Jack's devotion has never waned and -- despite her ailment -- neither has Phyllis' affection for him. "Whenever I turn up to see her she stretches her arms out to hug me," he says.
This February marked their 70th year of marriage, an occasion that was marked by visits from family and friends all the way from Bedfordshire and Essex as well as a letter from the Queen. "Our motto is Que Sera Sera, whatever will be, will be," Jack says.
BEFORE YOU GO
PHOTO GALLERY
The World's Most Devoted Husband