To celebrate "The Next Day," David Bowie's first album in 10 years, UK artist Tracey Emin worked with Harper's Bazaar to showcase her personal tribute to the singer. The limited-edition cover is only available at the V&A Museum, where an exhibit dedicated to David Bowie is currently on view. Lucky Londoners can spy Emin's signature neon hearts surrounding the words "You Loved Me Like a Distant Star" glowing on a black background.
Emin has created 200 covers for the April edition of the magazine, along with a two-page article recalling her first meeting with Mr. Bowie when she was 32 years old. The story goes that Bowie approached Emin while she was with a group of friends, saying, "Hello, my name's David Bowie, sorry to interrupt. But Tracey, I'd just like to say I really appreciate your work."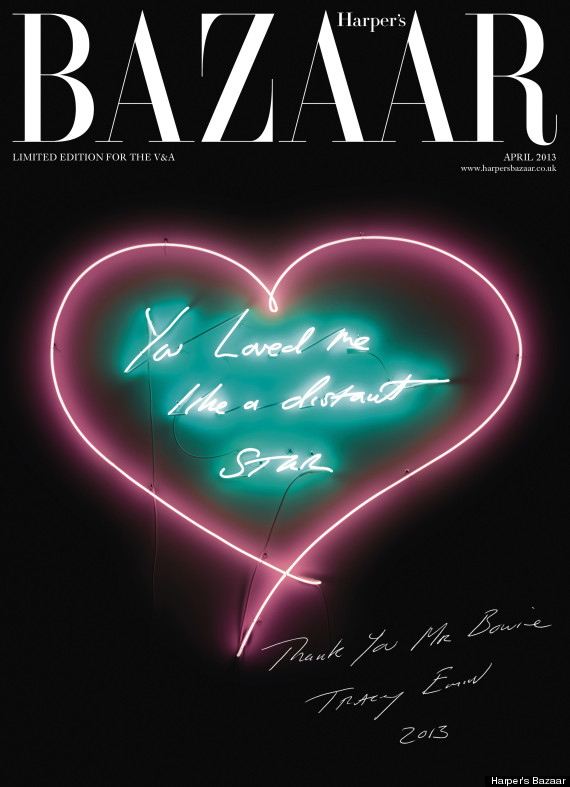 April Cover, Harper's Bazaar
She goes on to describe her enduring friendship with "
The Man Who Fell to Earth
," explaining the modest means of transportation he would use to visit her:
"He said, 'Yes I often travel by Tube. I wear a baseball cap and read a Greek newspaper. The most hassle I ever had was some guy saying 'Oi mate, has anyone ever told you you're a dead ringer for David Bowie?'"
You can check out Emin's article in full here, and listen to a snippet from Bowie's album ahead of the record's March 12 release date here.
PHOTO GALLERY
David Bowie Through The Years
MORE ARTS NEWS
Dutch Artists Haas & Hahn Bring Color To Slums Across The Globe: There are plenty of critics of the work of Dutch artists Jeroen Koolhaas and Dre Urhahn, but the duo stands behind their unconventional street art. "Our projects bring hope, positivity, beauty, job opportunities and stability,' Urhahn stated to The Telegraph. "You know, we are actually offering quite a nice package." (Telegraph)
A Comic Artist's Real Opinion Of Lichtenstein: Not surprisingly, comic artist Marc Ellerby is not a big fan of the acclaimed pop borrower. "Lichtenstein's work is now worth millions. How depressing that it's the result of plunder." (The Guardian)
The Story Behind An Iconic Poster: The New York Times goes behind the scenes of Frank Fraver's poster for "Hit the Wall," a new Off Broadway play based on the violence at Stonewall Inn in 1969. The design "gives the impression of something being shattered or broken or explosive," Fraver explained to The NYT. "It had a lot of action as an abstract form, and that appealed to me." (The New York Times)
Sotheby's Turns Its Eye To Central Asia: Hoping to draw interest to an often ignored region of the world, Sotheby's is showcasing a collection of art from Central Asia and the Caucasus. (Reuters)
Lalla Essaydi To Discuss Female Artists In Hong Kong: Four female art figures will ask the question, "Why are there no great women artists?" on International Women's Day in Hong Kong. (ARTINFO)
101 Typographical Tributes To Bowie... On One Poster: Feast your eyes on this amazing text homage to the great Bowie. (Complex)
BEFORE YOU GO