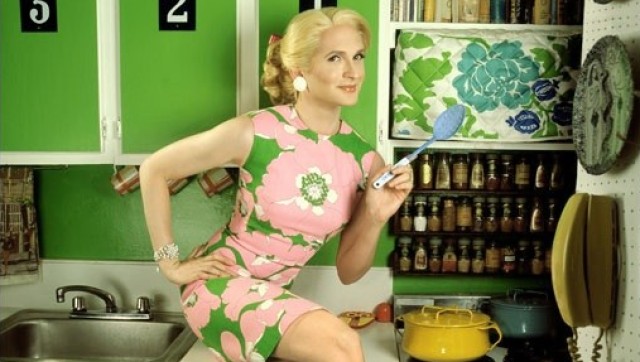 We're sure you've noticed the incredible abundance of cooking shows lately. Sometimes it feels like a new one pops up every day. You may have also noticed that drag queens are quickly becoming America's sweethearts. Thanks in part to the popularity of "RuPaul's Drag Race," this fierce and hilarious art form is being seen by more eyes than ever. First, we wondered if there are any Julia Child queens out there. Then, we got to thinking about how we'd just die to watch a drag cooking show. Turns out, you queens are ten platformed steps ahead of us.
There are reasons drag queens make fantastic cooking show hosts. First, drag queens live to make us laugh, so their cooking shows are always side-splittingly funny. Second, these goddesses just love to shake a cocktail shaker. Third, so many cooking terms have equally useful drag slang meanings. For example, "serving up fish" = "to look very, very girly and own it." One of our most favorite queens, Latrice Royale, is prone to yelling "EAT IT," during moments of great triumph. If you're not well-versed in drag vocabulary, we found you a great primer.
Things to note before you dive into these incredible cooking shows: "sickening" is a good thing, there are a lot of -- um -- anatomical innuendos heading your way and you should be prepared for some mildly NSFW language. Ready girls? You. Better. WERK.
PHOTO GALLERY
Drag Cooking Shows
BEFORE YOU GO
PHOTO GALLERY
Julia Child's Most Memorable TV Moments