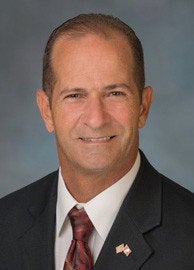 Legislative committees in two states are moving forward with gun bills that are meant to thwart federal efforts to increase gun control.
Missouri lawmakers are seeking to amend the state's constitution to require the state to defend against any "infringement" of the Second Amendment. The amendment would also expand the state's definition of gun rights, adding protection of family to protection of home, person and property as reasons why a Missouri resident would need to have a gun. The Missouri state Senate General Laws Committee voted Monday to advance the constitutional amendment.
Separately, a committee in the North Carolina House of Representatives on Tuesday advanced a resolution asking Congress to block what is says are gun proposals not backed by "scientific evidence."
Both moves are part of growing state-level opposition to President Barack Obama's new gun-control proposals.
The Missouri amendment does not specify how the state would engage defense of the Second Amendment. The Associated Press reported that state Sen. Kurt Schaefer (R-Columbia) introduced the amendment in January after Obama advanced his proposals.
The North Carolina measure is strictly a resolution expressing state opposition to Obama's proposals. State Rep. Michael Speciale (R-New Bern) told his colleagues that North Carolina needs to pass the resolution to stop Obama, wral.com reports.
"We right now have an out-of-control federal government," Speciale said, according to wral.com. "We here in the North Carolina General Assembly are the last bastion of hope between citizens and an ever-encroaching federal government."
Speciale's resolution says that past federal gun control proposals have had reasoning behind them, while Obama's don't. The resolution reads:
Whereas, in the past, reasons offered in support of these infringements such as registering guns, banning certain kinds of weapons and accessories, requiring extreme background checks, and restricting concealed carry permits have not been shown by the substantial weight of scientific evidence to have been effective in accomplishing the stated objectives of such restrictions as compelling necessities for government action to protect the public safety;
At least one Democrat questioned the wording of the proposal, calling it opinion.
"Do resolutions have to be factual, or can you just make stuff up?" Rep. Marcus Brandon (D-Guilford) said, wral.com reports.
BEFORE YOU GO
PHOTO GALLERY
People Who Want More Guns In Schools