After high school, Saleh Albaladi knew he needed more experience to find a job in Saudi Arabia. Many of his relatives were unemployed and prospects were not good. The right type of education would make all the difference. He chose the 2-year diploma program in networking at King Abdulaziz University because it included the Cisco Networking Academy curriculum and sparked his interest in technology. He hoped the hands-on training and practical knowledge would give him an edge in the crowded job market.
Young people in the Kingdom of Saudi Arabia face one of the most challenging and competitive job markets in the world. A demographic baby boom is about to come of age in the Kingdom and young men and women will soon flood a job market that is already impacted. Current estimates of 10.9 percent unemployment only tell part of the story. The rate is much higher (about 35 percent) for men in their 20s and those with university degrees.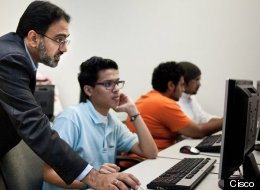 Instead of hiring young Saudis, employers turn to more experienced workers from other countries who live in the Kingdom. Rather than invest in graduates with bachelor's degrees who have never seen a switch or a router, they hire expatriates with work-ready ICT skills. Saleh read the university website carefully to find the diploma in networking that included Cisco Networking Academy training. He knew that was a pathway to a career.
The Cisco Academy at King Abdulaziz University offers students practical, hands-on training and certification as well as connections to employers who need their skills. As the ICT industry grows in Saudi Arabia and throughout the Middle East, employees with proven skills and respected certifications have an advantage over other applicants.
"Cisco Networking Academy training is different," said Hashem Shahwan, Cisco Academy Manager for Saudi Arabia, Yemen, and Lebanon. "The students use the equipment. They configure it. They are ready to work the day after they graduate."
King Abdulaziz University started one of the first Cisco Academies in the region as part of the 2-year diploma track in the Computer Science Department in 2004. Content is developed by educational experts and Cisco engineers to match industry and employer requirements for qualified technicians. The curriculum is delivered using a blended, e-learning model with a combination of practical hands-on lab work and study with access from anywhere. In 2010-2011, the program opened its doors to graduates with bachelor's degrees who need more practical, hands-on training and ICT certification to find a job.
Students enjoy the unusual combination of classroom instruction, hands-on activities, online curricula, labs, network simulations, and online assessments. "NetAcad is fun…I learn by doing," said Rayan Aklunaidiry, a current student. "I like to get the job done."
The blended learning model uses visual, auditory, and tactile participation with many opportunities for authentic practice of key concepts. The Networking Academy also helps students develop the problem-solving, communication, collaboration, and critical thinking skills that employers expect in today's global, technology-driven society.
Cisco Networking Academy provides the missing link for employers and young people of all backgrounds. Students who complete Networking Academy courses are finding jobs and advancing in their careers because their skills are needed in the local job market and recognized by employers.
Shortly after Saleh completed his degree, he found a position as a technician for Information Technology Company, Ltd. (ITC). Employers look for graduates who have attended Cisco Networking Academy because they know what they can do. "They are ready to work," said Faisal Al Amri, Saleh's manager and a senior engineer at ITC. "They have the know-how and hands on experience. We save a month or two of training."
Bachelor degree students at King Abdulaziz University continue their studies through the Cisco Networking Academy to obtain the practical skills and certification the job market demands. "It provides the necessary knowledge that was not fully present during my college years," said Abeer Gary (Aziz), a current student with a bachelor's degree. "It gives more hands-on practice on the solid information we used to study, and surely gaining the certificate will advance our careers and give us much more confidence in doing our jobs."
After a week of training on the company's protocols, Saleah was out in the field setting up technology and configuring networks for ITC clients. He enjoys traveling and the work in the field, but realizes the limitation of his 2-year diploma. Young people with bachelor's degrees lack practical knowledge to get the job, but young men like Saleh without a bachelor's degree are not eligible for promotion.

Saleh is investing part of his salary in himself by continuing his education online at Arab University. The virtual university, designed for working people who cannot attend daily classes, is less expensive than more traditional universities. Saleh hopes to complete his bachelor's degree then take the Cisco CCNA certification and pursue his Cisco CCNP as he continues to gain work experience.
Saleh's family is proud of all he has accomplished. Thousands of bachelor degree graduates cannot find jobs. Saleh did not have the resources to pursue a bachelor's degree, but the opportunity to learn Cisco networking motivated him to earn a diploma. Now, he is able to continue his education and improve his prospects while contributing to the growth of the information industry and earn a living in Saudi Arabia.
PHOTO GALLERY
Cisco Networking Academy:
Learn more about Cisco's Corporate Social Responsibility: csr.cisco.com
Connect with Cisco CSR on:
Twitter: www.twitter.com/@CiscoCSR
Facebook: http://www.facebook.com/CiscoCSR
Google+: gplus.to/CiscoCSR
Pinterest: http://cs.co/CiscoCSRPinterest