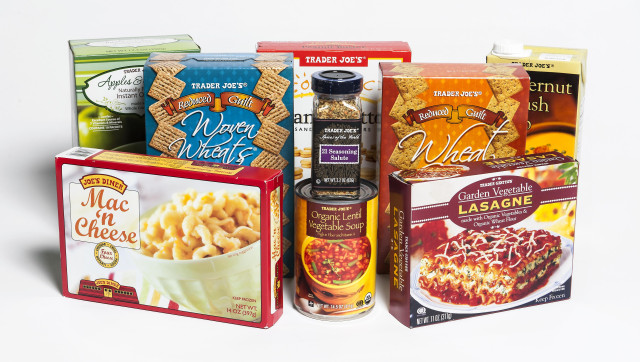 Trader Joe's Taste Test: Round 1
In our inaugural Trader Joe's taste test, we wanted to find out which big brands produce some of Trader Joe's most popular items. We judged strictly on taste, because we wanted to know if Trader Joe's products are flavor-comparable to their rumored big-brand manufacturers. (And guess what? They are.)
But of course, our curious readers took things a step further, wanting to know whether the big brands are non-GMO. Trader Joe's claims all of its products are non-GMO, so technically, the brands they're in cahoots with should be, as well.
And thus, Round 2 of our Trader Joe's taste test ensued. We took a two-pronged approach this time, staying true to our taste-centric roots while also checking in on the GMO issue. For every Trader Joe's product we tasted, we did a blind tasting of a big-brand product that has been rumored to be Trader Joe's supplier. We compared tasting notes, and then afterward we checked the boxes to compare ingredients and check non-GMO status (which isn't always easy, since GMO labeling practices aren't regulated).
How many matches did we find in Round 2? Three out of the nine products we tasted seem to be surefire hits. Check out the slideshow below for the taste test results.
As always, this taste test is in no way influenced or sponsored by the brands involved.
PHOTO GALLERY
Trader Joe's Taste Test, Round 2 (2013)
Want to read more from HuffPost Taste? Follow us on Twitter, Facebook, Pinterest and Tumblr.