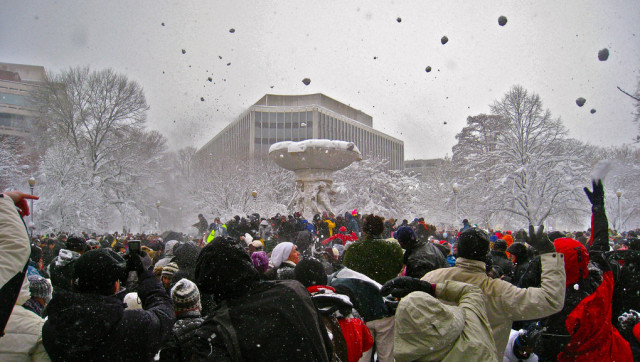 Update: The snowball organizers have posted a message on the event Facebook page calling off the 2013 snowquester snowball fight, on account of not enough snow:
Well, that's all folks. Sadly, the Noquester promised much & delivered nada. So DCSFA is returning to hibernation mode until next winter. Thanks to everyone who shared their enthusiasm, and yes, even sarcasm, on this page - which is staying up in tribute. And let's give it another shot in 2013/2014!
As of early afternoon on Wednesday, the "snowquester" is living up to its name -- there even seem to be cutbacks in snow. And there's certainly going to be a snowball shortage in the nation's capital if the snow doesn't start to stick.
But the "Official Dupont Circle Snowball Fight, 2013 Edition" scheduled for Wednesday is still tentatively on track to happen, according to a message posted to the event's Facebook page:
DC is obviously once again in the dreaded snow hole, but there's a chance of some accumulation as the Snowquester is on its way out this evening. So we're switching the time to 8pm, and if the final wave doesn't pan out by around 6, we're calling it a day! Thanks for keeping the faith!
During the 2010 "Snowmageddon," around 2,000 people flocked to Dupont Circle to take part in a massive snowball fight while the rest of the city was shut down.
The organizers of this year's snowball fight hoped to replicate the excitement of the first fight. Ideas from the planners for this year's snowball fight include encouraging participants to wear outlandish costumes and even the possibility of a Harlem Shake video. And hopefully everyone will leave their guns at home.
However, should it turn out that not enough snow accumulates, one poster to the event Facebook page has a suggestion: "Rainball fight?"
Check out photos from the 2010 snowball fight:
PHOTO GALLERY
Dupont Circle Snowball Fight
Flickr photo by Kyle Taylor, used under a Creative Commons license.
BEFORE YOU GO