In theory, Hooters is trying hard to reach a more female clientele. The chain is redesigning restaurants to make them more "sleek and comfortable" and has been forthright that it wants more women diners.
But we have to say, we're a little perplexed by company's new #StepIntoAwesome advertising campaign. It doesn't seem female-friendly at all. The two new online spots are clearly going for the classic "dude" angle, and the only females in the ads are 1) lame partyers or 2) Hooters waitresses.
But something, somehow, must be working -- YouGov BrandIndex has just released a new survey that found that both female and male perception of the chain is up since last November. There's a caveat though: For women, the chain still has more negative perception than positive. But it isn't as negative as it once was.
To measure the Impression score, YouGov BrandIndex asked adults over age 18, "Do you have a general positive feeling about the brand?" The measurement scores range from 100 to -100 and are compiled by subtracting negative feedback from positive. Last August, the women's Impression score for Hooter's stood at -26. For men, it was -3.
In the most recent survey, the women's Impression score moved to -21, and the men's score moved to 2.
Here's a look at the results: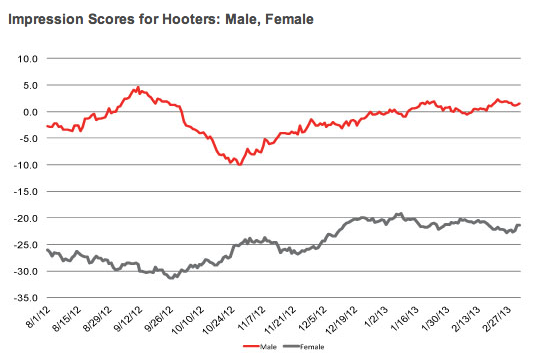 While it seems like getting a bit away from the "delightfully tacky, yet unrefined" tagline is a smart move on Hooters' part, we're not sure the chain is ever going to be a place where gal pals hang and gossip. That being said, we've got to admit -- those wings are good.
BEFORE YOU GO
PHOTO GALLERY
Restaurants That May Be Upset About The Breastaurant Trademark