Anyone can tell you who's already made it, but HuffPost Arts & Culture's On Our Radar series is here to tell you who's about to blow up -- and, in some cases, go pop.
When we first heard rumors of Liaison Femme, an all-female DJ collective, our interest was piqued. Yet upon hearing founding lady DJ Grace Lee discuss her collective's plans to collaborative with everyone from fashion lines to the Guerrilla Girls, our interest blossomed into obsession. We spoke to Lee on her ever-growing collective, which includes DJs du jour like Mia Moretti and Sam Ronson, to learn more about the group.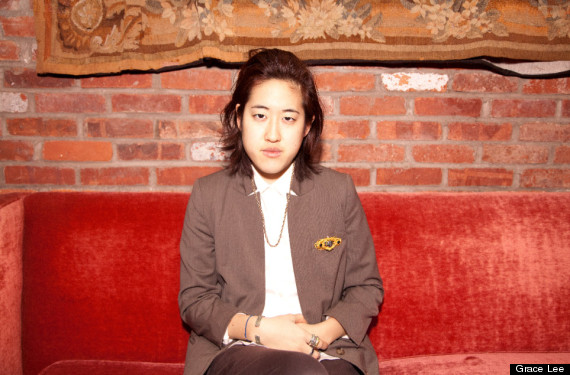 HP: What are you trying to say with this project? Why does it matter?
GL: Liaison Femme was never really a "project" creation, but rather a vision I wanted to fulfill since starting my career as a professional DJ at 14 years old. The idea of gathering female DJs [was] daring to me -- the power behind being a collective movement rather than a brand or project.
Initially Liaison Femme's motto and statement was simply "a forward-thinking collective movement comprised only of female DJs" but now it's very vocal in not just the DJ community but also this new wave of women in the arts. The community of women are coming together, not just musicians and DJs but to even female designers, chefs, street culture movers, and influencers. It's beautiful to see women finally feel a place to connect.
It's the year of women, I think, or it always has been. Real women. Real creatives. Real empowerment.
Scroll down for the rest of the interview and tracks from the artists.
PHOTO GALLERY
Liaison Femme
HP: Who has influenced your work?
GL: Honestly speaking, I was more influenced by what than whom. I'm very influenced by the idea of transportation and location, going to a place unknown or a place that I feel connected to gives me more focus with my work. Every artist has their "spot" or "place" they want to be; [the] location of your energy is an influence to me.
HP: What are the lowest and highest points in your career so far?
I don't think counting your low or high points should at all sensitive to an artist, you know? If you gear towards this tally chart for you career you start losing your passion.
HP: What are you obsessed with right now, or what's inspiring you?
GL: I am very obsessed with the high Renaissance movement -- a lot on Caravaggio, Michelangelo, and Da Vinci. This period of time was an era of romance between humanity and arts, which I'm hoping one day our generation will slowly turn back to.
Also, this new thing I call "visual therapy" -- I go on these location hunts lately by myself to check out baroque architecture that is mostly sought in cathedrals, old New York buildings, and museum exteriors. I depend a lot on visual communication and the energy of the location to inspire me whether I am in the studio or navigating Liaison Femme.
HP: What movie/book/artist are you embarrassed about not knowing?
GL: How can I be embarrassed if I don't know? But I do get embarrassed about restaurants that I haven't eaten at yet!
HP: How would your childhood art/music teacher describe you?
GL: Attitude like Nina Simone, but a heart like of Joan of Arc. Silent destroyer. Old soul. My teacher in high school said I was a "witty virgin to poetry" -- whatever that meant. I never had an art/music teacher but more a mentor, so my relationships as a child to my elders were very much about discipline than education... lots of discipline.
For more information on female DJs, check out the documentary "Girls Gone Vinyl."