This post comes to us courtesy of Love in the D.
Have you ever seen a photograph that captured happiness so simply, so clearly?
If you look at even just one of the photos below taken by photojournalist Marcus Parham, you will realize that Ashley Whitfield and Prof. Raimi Gbadamosi had a blast at their December 2012 wedding at the Charles H. Wright Museum of African American History! Ashley and Raimi met when they were involved in social justice issues in London. She's a youth worker and curator; he's an artist.
Ashley and I met during college at the University of Michigan. Doesn't she look radiant? I love that Riana, one of the bridesmaids and another college friend, was a flower maiden!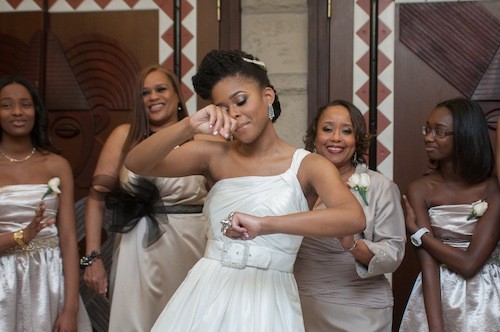 Q: Tell me about your love for Detroit.
A: I have an affinity for Detroit for many reasons. It has helped to raise my community – some of my most dear family and friends. Detroit is a center for radical histories and contemporary social justice struggles. And I love the culture that seeps through it all -- from gator shoes to Dilla!

Q: How did you incorporate Detroit into your wedding?
A: I was fortunate to have my wedding at the Charles H. Wright Museum of African-American History, a national but also local gem. The Wright Museum is an essential part of Detroit's landscape. Also, I requested a set of some of my all time favorite music: Detroit Ghetto Techno (DJ Snowflake & DJ Assault). Finally, our lovely guests were some of my favorite Detroiters.


See the rest of the photos from Raimi and Ashley's wedding -- plus more socially conscious Detroit weddings around town -- at Love in the D.
BEFORE YOU GO
PHOTO GALLERY
Detroit Wedding Locations