Jodi Arias will be faced with questions from the jury in her first-degree murder trial for a second time Thursday.
Arizona is one of three states that allow jurors to pose questions to witnesses after prosecution and defense lawyers have finished their questioning.
The jury's questions were first put to Arias Wednesday by Judge Sherry Stephens.
Arias, 32, is accused of the June 4, 2008, slaying of Travis Alexander inside his Mesa, Ariz., apartment. The prosecution contends Arias stabbed Alexander 27 times, shot him twice in the face and slashed his throat in a jealous rage. Arias told jurors she killed her ex-boyfriend in self-defense during an argument over a dropped camera that followed his escalating sexual demands.
The questions that have already been presented to the defendant –- many of which Arias answered in rapid succession -- covered subjects that included her sex life and the murder. The most relevant of those questions, along with Arias' answers, can be found in HuffPost Crime's end of day trial recap.
The jurors' questions and Arias' answers could prove to be a defining moment in the trial that will ultimately have a large impact on her fate. Arias faces the death penalty if convicted.
The trial is scheduled to resume at about 12:30 p.m. Eastern time on Thursday, when juror questions will again be presented to Arias.

Read below for minute-by-minute updates from court Thursday:
03/07/2013 6:40 PM EST
Recess
The judge has called the evening recess. The trial will resume at 12:00 p.m. ET on March 13.
03/07/2013 6:35 PM EST
On Her Job Injury:
Arias earlier testified she did not have to report the finger injury because it was a small business.
Martinez pointed out there are multiple restaurants in that particular food chain.
Arias earlier said that she told the manager about the injury but did not fill out any paperwork.
She is now saying she does not know what she said, but does remember she had asked for a bandage
03/07/2013 6:32 PM EST
Arias' Finger
Arias is being asked about her finger injury at the restaurant she worked at.
03/07/2013 6:31 PM EST
Sidebar
The attorneys are at a sidebar with the judge.
03/07/2013 6:31 PM EST
Wal-Mart
Martinez said the Wal-Mart where Arias claims she returned the fuel can has no record of the alleged transaction.
"Would it surprise you that Wal-Mart does not have any record of any refund for a gas can on that date," Martinez asked.
Arias maintained she returned it and received cash.
03/07/2013 6:28 PM EST
Receipts
Martinez said the fuel receipts indicate Arias made three separate fuel transactions from a gas station in Salt Lake City.
03/07/2013 6:26 PM EST
Fuel Purchases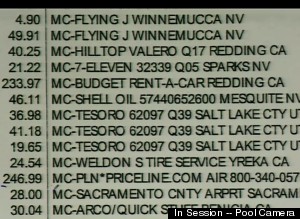 03/07/2013 6:23 PM EST
Sidebar
The attorneys are at a sidebar with the judge.
03/07/2013 6:23 PM EST
Receipts
Martinez is showing the jury receipts from a Salt Lake City, Utah gas station.
03/07/2013 6:22 PM EST
More Arias' Gas Questions
Arias testified earlier in the trial that she had bought a third fuel can at a Wal-Mart in Salinas, Calif., for her trip, but returned it the same day. Martinez pointed out that if she had returned the can like she said, then why did she have three cans with her on June 6, 2008.
The Huffington Post is live blogging Thursday's testimony. Check back here for updates.
BEFORE YOU GO
PHOTO GALLERY
Jodi Arias Timeline