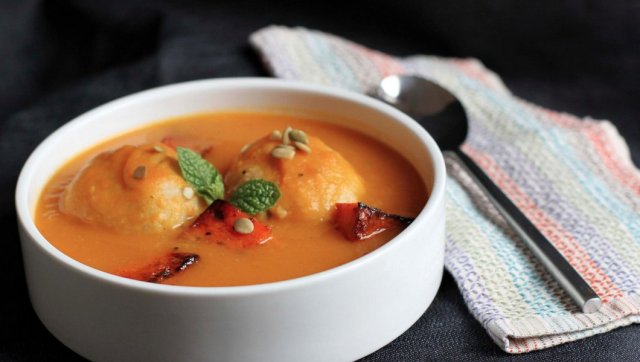 On a cold Monday night, a sprawling line formed outside of a small bakery in New York City's East Village. People sipped tea, shivered and waited to be beckoned inside a narrow space for a bowl of kubbeh.
Kubbeh, a Jewish-Iraqi soup featuring a semolina dumpling with meat inside, offers everything that comfort food seekers crave. Namely, it tastes like something your grandmother would make.
The "Kubbeh Project" is open from 6:30 p.m. to 10:30 p.m. daily, and it will run until March 21 inside Zucker Bakery in Manhattan. Why kubbeh? Naama Shefi, the curator of the project, told WNYC that she had a particular interest in preserving the tradition of cooking kubbeh. "Today, with assimilation and massive cultural changes, many recipes that require intensive time and labor, may soon be lost. There is tremendous urgency in preserving these flavors, a vital part of Jewish identity," the Kubbeh Project's Facebook page reads.
In a society that is fueled by quick meals, there is something refreshing about having a taste of tradition. At least, the people standing outside on Monday in the freezing cold seemed to think so.
Shefi did not merely conjure up a recipe and unveil the concept for the Kubbeh Project overnight. She sent chef Itamar Lewensohn to various Israeli homes to master kubbeh, The New York Times reported. And nothing in the space is an accident -- even the images on the menu were based on historical documents.
Comfort food is often attached to the idea of the familiar -- people's favorite comfort foods are usually the ones that remind them of childhood (mac 'n cheese), or one that their parents or grandparents used to make (Sunday sauce). But the main goal of comfort food is for it to be soothing. One doesn't need to have a personal attachment to a dish in order for it to be comforting. And that's where kubbeh comes in.
The history of the Iraqi Jews is a complicated one; tasting a bowl of kubbeh is a tiny fraction of a step toward understanding such traditions. But it's one simple way to make sure that it's not forgotten.
Learn about some of the dishes from The Kubbeh Project below. All photos by Katherine Needles.
PHOTO GALLERY
The Kubbeh Project