After a photograph capturing a massive Lego spill on a West Virginia highway went viral on the Interwebs this week, people from all around the country have been stepping forward with offers to help replace the toy building bricks, said to belong to an 11-year-old boy.
According to the New York Daily News, a stretch of Interstate 79 near Clarksburg, W.Va., was clogged for more than two hours Sunday, after thousands of Legos fell from a family's car and spilled onto the road.
(Story continues below.)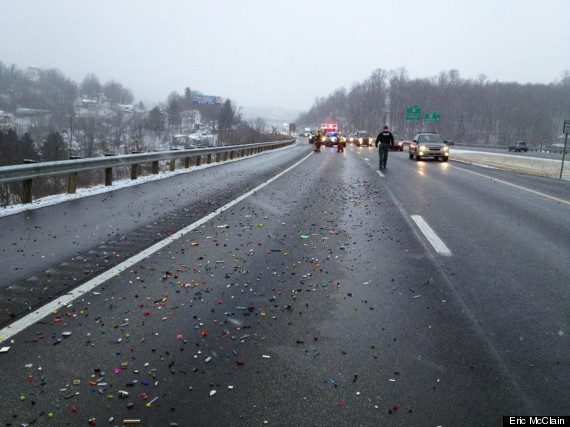 Eric McClain, a firefighter in the nearby town of Anmoore, told The Guardian that it took hours of work to clear the estimated 2,000-5,000 toy bricks.
"The people who owned them took them back as much as they could and picked up as much as they could," McClain said, adding that he and other firefighters, as well as highway officials, had also helped to clean up the Lego mess.
On Monday, a woman named Tiffany Lantz took responsibility for the spill, posting this message on the Anmoore firefighters' and first responders' Facebook page:
Those legos belonged to my 11 yr old son they [were] in totes strapped to the top of the durango they fell off strap came loose he cried it seemed like forever but I tried to recover as many as I could cause I don't have the money to buy him anymore. Sry to anyone that got stuck in traffic
Though Lantz' identity and her involvement in the Lego spill have yet to be verified, this hasn't discouraged dozens of Facebookers who have already stepped forward with promises to replace the boy's lost Legos. Many have offered to send the child some new toys, too.
"There's just a ton of people who want to give this kid Legos. There are people from all over the country who want to give the kid Legos. It's amazing," McClain told The Guardian.
"I think I can get my 10 year old to donate some. He will understand," wrote one woman in a Facebook post this week.
"All the way in Texas and saw this. Will be sending some Legos asap! Looking at amazon now. God bless you," wrote another.
Lantz has reacted to the overwhelming response with words of gratitude.
"Thank u to every 1 who has offered to help him he wanted me to tell u all thank u," Lantz wrote on Facebook on Wednesday.
(Hat tip, RNN)
BEFORE YOU GO