Hi-ho silver, away!
A serial bank robber dubbed by the FBI as the "Loan Ranger Bandit" has emptied vaults across Mississipi, Arkansas and Texas, and the government needs your help to find him, Kemosabe.
The perp doesn't wear a mask, but does flaunt a Texas Rangers baseball cap. He's known to pass notes to tellers demanding cash in 20s, 50s, and 100s, and he orders them not to include "funny money." He also carries a handgun in his waistband.
PHOTO (Story continues below):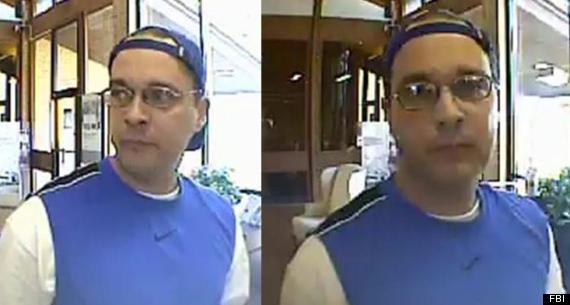 He's robbed at least 10 banks across three states since 2011, according to News Channel 6. He has never harmed anyone during the heists, but he's considered armed and dangerous by the FBI.
LOAN RANGER BANDIT DESCRIPTION:
Height: Approximately 5'7" to 6'0"
Weight: Approximately 200 pounds
Sex: Male
Build: Medium
Eyes: Color unknown; wears glasses
Hair: Short, light brown
Complexion: Light
Race: White
Age: Early 30s
Remarks: The suspect does not attempt to disguise his face. He is often wearing glasses and wears various hats or a hoodie. His varied clothing styles include: athletic wear, jeans and business attire.
Scars and Marks: The suspect has a small mole or mark just above his right eye on the lower part of his forehead.
Vehicle Information: The suspect may drive a maroon Chevrolet S-10 pickup truck that has a thin white pinstripe around the truck bed.
Weapons Used: Small handgun.
If you have any information that could help the FBI in this case, please call 1-800-CALL-FBI or submit a tip online.
KNOWN ROBBERIES:
January 16, 2009 Summit Bank 1114 Highway 35 South Benton, Arkansas
June 30, 2011 Summit Bank 1114 Highway 35 South Benton, Arkansas
July 21, 2011 Citibank 3701 Fairway Boulevard Wichita Falls, Texas
August 31, 2011 Altra Federal Credit Union 5523 Troup Highway Tyler, Texas
October 4, 2011 Temple Santa Fe Community Credit Union 1750 West Avenue A Temple, Texas
January 4, 2012 Union State Bank 902 Palm Valley Boulevard Round Rock, Texas
May 17, 2012 BBVA Compass 6910 South Broadway Ave. Tyler, Texas
July 9, 2012 First State Bank Central Texas 50 South Main Street Salado, Texas
August 17, 2012 FedStar Credit Union 701 Harvey Road College Station, Texas
October 26, 2012 BancorpSouth Bank 2174 Main Street Madison, Mississippi
BEFORE YOU GO
PHOTO GALLERY
Bank Robbing Bandits