In the first official promotional photo for "Behind the Candelabra," Michael Douglas and Matt Damon look almost unrecognizable as Liberace and his lover, chauffeur Scott Thorson.
Douglas and Damon appear on the cover of Entertainment Weekly bedazzled in rhinestones, fur and lots of prosthetics. But it's just another day on the job for the two critically acclaimed actors, who play lovers in the Steven Soderbergh-directed HBO flick about the life of Liberace.
SCROLL FOR PHOTO
The biopic, based on Thorson's tell-all memoir, "Behind the Candelabra: My Life with Liberace," focuses on the relationship Liberace had with the man 39 years his junior. The famously flamboyant pianist, for his part, kept his personal life private; it was only after he died of AIDS in 1987 that more details were revealed.
While speaking with EW, the two stars discussed what it was like filming a gay sex scene for the film. "The scene where I'm behind him and going at him, we did that in one take," Damon said. "We do it. Cut. There's a long pause. And then you just hear Steven go, 'Well… I have no notes.'"
Both actors agreed that filming a sex scene -- regardless of whom it is with -- is always awkward.
Another awkward moment during production came when Damon's wife saw the actor, who shows his backside in skin-tight briefs in the upcoming film, getting a spray-tan.
"Every Sunday night, this girl would come to my house and I would stand in my garage and I would hike my boxer briefs up into the crack of my a** and she would give me a spray tan," Damon told EW. "We've been through three childbirths, we've been in the trenches, there are no secrets. But I really wish she didn't see that. That's too much."
The "Promised Land" actor is proud of the role and the boundary-pushing film. "It's the kind of movie that if it were a man and a woman, it would feel a little too intimate and you'd feel like, 'Maybe I shouldn't be watching this,'" Damon told PopSugar. "But it's a man and a man. And I've never seen that movie before. So hopefully people will dig it."
Soderbergh has previously revealed that multiple studios weren't interested in picking up "Behind the Candelabra" because they thought it was "too gay" and they "didn't know how to sell it. They were scared."
You can read Michael Douglas and Matt Damon's full interview in Entertainment Weekly, on newsstands Friday. Can't wait till then? Visit EW.com for a promo of the cover story. "Behind the Candelabra" will air May 26 on HBO.
PHOTO: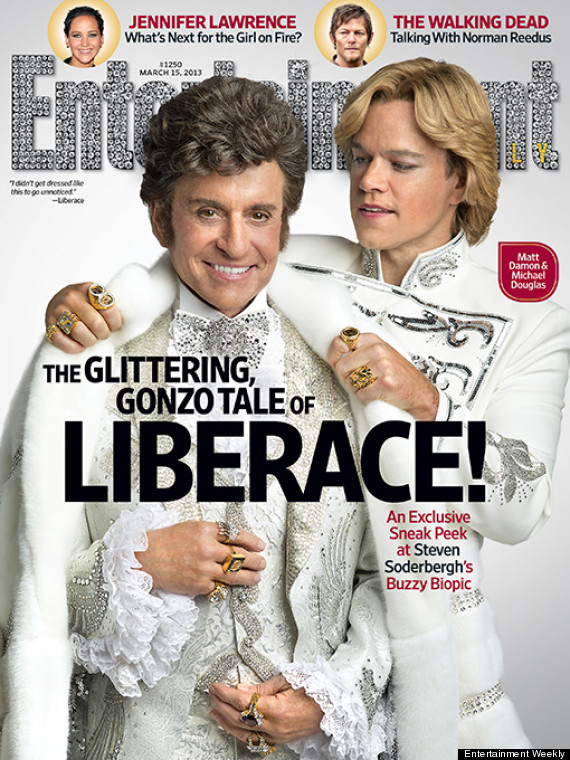 BEFORE YOU GO
PHOTO GALLERY
Celebrities Who've Faced Gay Rumors