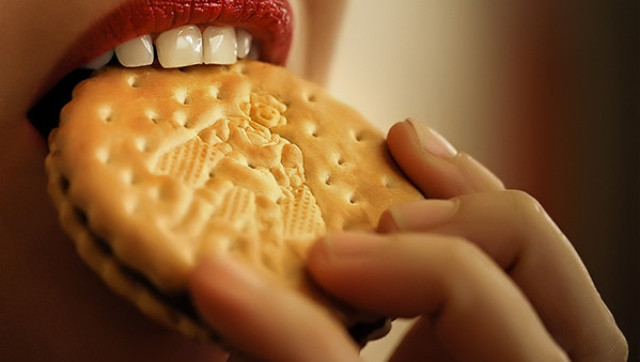 What Is It Anyway? is a series that examines the histories behind peculiar and obscure foods. Today, we're explaining prince biscuits.
So, what are they, anyway?
The title "prince biscuits" has been given to a number of various foods over time. Most are not American biscuits at all, but cookies (which many Europeans refer to as "biscuits"). Today, "prince biscuits" refers to a type of cookie produced by a company called LU. The cookies feature cocoa cream filling sandwiched between two Ritz cracker-like "biscuits." They're available in eight countries.
History
"Prince biscuit," or "prince bisket" first appeared in a cookbook in the early 1600s. In 1602, Sir Hugh Platt's "Delightes of Ladies to adorne their Persons, Tables, Closets, and distillatories with Beauties, banquets, perfumes and waters" included the following recipe:
Take one pound of very fine flower, and one pound of fine sugar, and eight egges, and two spoonfuls of Rose water, and one ounce of Carroway seeds, and beat it all to batter one whole houre: for the more you beat it, the better your bread is: then bake it in coffins, of white plate, being basted with a little butter before you put in your batter, and so keep it.
So early "prince biscuits" were actually American biscuits.
LU's version of prince biscuits emerged in the 1800s, when two French bakers fell in love, creating a company with a name comprised of their initials. The duo whipped up a number of treats. Today, their once-tiny company produces these treats with an image of a prince embalmed on them.
Etymology
"Biscuit" comes from the Old French word "bescuit," which translates literally as "twice baked," and usually referred to twice-baked products. According to Wikipedia, this is because biscuits "were originally cooked in a twofold process: first baked, and then dried out in a slow oven."
In popular culture
"Prince biscuit" could take on yet another new meaning soon -- Prince William's royal wedding featured a groom's cake worthy of the title, as it comprised mostly of chocolate and biscuits. The cake spawned a number of recipes for similar "Prince William Biscuit Cakes."
How you can enjoy them
Prince Biscuit recipe from Paprikas
Chocolate Biscuit Cake recipe from Sprinkle Bakes
Want to read more from HuffPost Taste? Follow us on Twitter, Facebook, Pinterest and Tumblr.
BEFORE YOU GO
PHOTO GALLERY
chocolate recipes