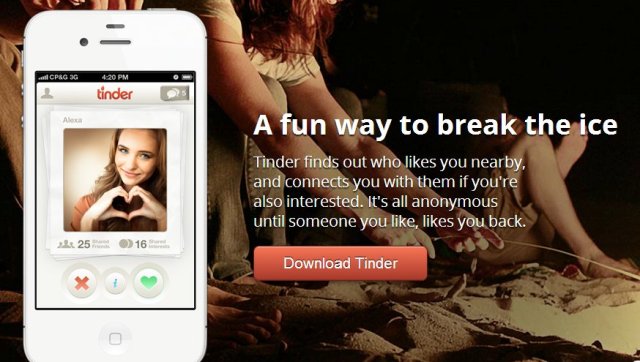 This photo is republished with permission from Brobible.com.
Everybody's talking about Tinder. It's one of those apps which, even if you haven't fully embraced it (I see you Android users), you still probably have an opinion. These opinions aren't wrong -- except that A.) some of them are, and B.) I just think people don't see the bigger picture here:
Tinder has effectively created a way to make "friends" based purely on location because, let's be real, people everywhere are pretty much the same when you're "in need." This little (perpetually crashing but in the most lovable kind of way) start-up's application blends just the right amount of anonymity, real-life information and mutual flattery in such a way that you can't help but be intrigued. Effectively, this is a "friend" making app for those of us with attention spans too short to fill out legitimate profiles, which (again, let's be real) is most of us.
This mutual flattery society is based on the premise that people want to meet others, and that these same people will also be smart enough to spot fake profiles and honest enough not to make them. The last two assumptions are admittedly less reliable, but it's just too damn fun looking at all the people who might find you attractive to worry about "catfish." Tinder has found a way to enable people to socialize beyond the confines of their own personal social circles, while also instilling in them a sense of security because they are allowed limited access to their potential "playmate" before even committing to finding him/her attractive.
It's brilliant if you think about it: people want human interaction, but they're too lazy to go out. Chatrooms are creepy and way too 90s; dating websites are just sad and desperate at our age; Facebook has way too many options with way too much information (and far too much uncertainty) and frat parties -- as fun as they may be -- could turn into a shitshow. There's a high probability that everyone there is too sweaty to look even moderately attractive, not to mention the fact that you're so drunk you'd look ridiculous even in a Harlem Shake video.
Tinder, however, is great. Any matches you get make you feel warm and tingly inside because you know that person found you attractive. You can talk as much or as little as you want before either getting a phone number or blocking their lying, underage ass (it's actually shocking how many middle/high school girls think that guys won't notice that they're not even old enough to drive, let alone vote, or drink), and it's a great way to blow off steam, whether you're trolling someone you never have and never will meet, or legitimately making an effort to socialize with people who might have something new to offer you.
Is it creepy? Maybe (read: yes). Is it potentially unsafe? To someone who doesn't think, maybe. I have faith, though, that anyone reading this is smart enough to get out alive. Is it socially acceptable? Jury's still out, but I personally think that if it isn't, it should be. Is it fun? OH MY GAWD, YES. You may have some trepidation at first, but you'll soon learn that mutual friends can be your best friends, and that mutual interests could be due to nothing more than a stray click or a phase they went through in eighth grade. But regardless, it will be a learning experience socially, technologically and personally – and that's not an exaggeration.
I Tinder. Do you?
More from BroBible.com:
8 Things You're NOT Accomplishing Spring Semester

Nobody Likes You When You're 23, But That's Probably How It Should Be
BEFORE YOU GO
PHOTO GALLERY
What Not To Post On Facebook