Would you drink beer for breakfast? A Scottish brewery is banking on it.
Black Isle Brewery recently released "Cold Turkey Breakfast Beer," an amber-colored brew made with oats, barley and wheat. It has a malty taste with a coffee base and hints of berries and grapefruit.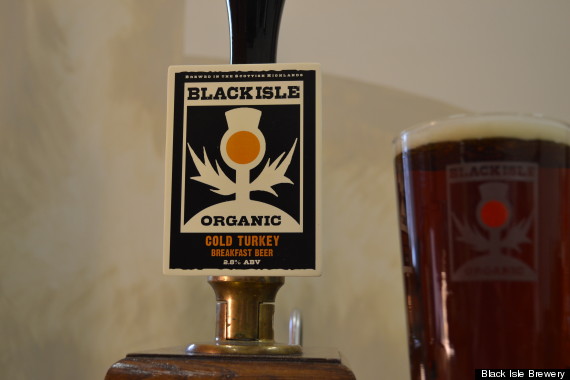 It's less alcoholic than most beers on the market at 2.8 percent alcohol by volume (usually, beers will clock in between 3 and 7 percent), but it's still causing a stir. The Scotsman writes that several activists have expressed concern about the product, including Dr. Evelyn Gillan, who serves as chief executive at Alcohol Focus Scotland:
"Alcohol related harm remains at historically high levels in Scotland – these harms affect not only the drinker but also those around them, such as children and families. ... With this in mind, whilst we welcome the production of lower strength alcohol products, using a marketing tactic such as this to encourage people to drink alcohol for breakfast is irresponsible."
Black Isle Brewery founder David Gladwin has defended the beer, telling The Drinks Business website that it's "actually designed for healthier drinking." Gladwin said he devised the beer as a means to recover from indulgent Christmastime drinking -- the brewery in the past produced 8.4 percent by volume imperial stout.
"Unfortunately, if you mention breakfast and beer in the same sentence people do jump to rather predictable conclusions," Gladwin lamented. "But there has been a lot of positive reaction to it as well. It's worth remembering that one man's breakfast is another man's lunch. Some people who have been up for four or five hours prior to 9 o'clock in the morning might have a drink as it's their lunch."
He did concede, however, that he's "not suggesting people substitute breakfast for beer."
Regardless of whether you think Cold Turkey Breakfast Beer is a good idea, with it Black Isle Brewery seems to buck the trend favored by other breweries of producing ever-more-alcoholic brews. Last year, another Scottish Brewery, Brewmeister, claimed it had produced the world's strongest beer, Brewmeister's Armageddon, with 65 percent alcohol by volume.
Other beers with the word "breakfast" in their names do exist, although some have a considerably higher alcoholic content. Founders Brewing Co. in Michigan sells "Breakfast Stout" with 8.3 percent alcohol by volume, and "Imperial Java Stout" from Santa Fe Brewing Co. in New Mexico -- which comes in cans with the words "before noon" printed on one side -- boasts 8 percent alcohol by volume. There's also "Moa Breakfast" from New Zealand's Moa Brewing Co. with 5.5 percent alcohol by volume.
BEFORE YOU GO
PHOTO GALLERY
Menuism's 15 Favorite Craft Beers In A Can