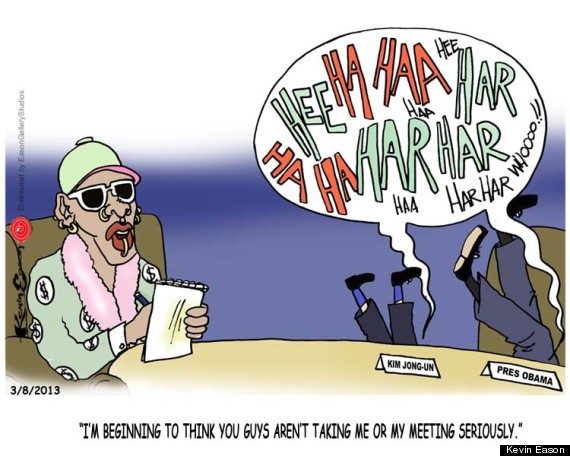 It's hard to take Dennis Rodman seriously when he's not on the court--and even then it was a little difficult. But last week, the basketball star took things to another level.
During an interview after his bizarre trip to North Korea, Rodman returned with a message for President Obama from Kim Jong Un.
"He wants Obama to do one thing: Call him," Rodman said Sunday on ABC's "This Week." "He said, 'If you can, Dennis -- I don't want [to] do war. I don't want to do war.' He said that to me."
Rodman publicly befriended the country's leader, telling him "you have a friend for life." But he took it one step further by attempting to broker a peace deal between the two.
Could Rodman ever be taken seriously as an ambassador of peace? Cartoonist Kevin Eason doesn't think so, illustrating what a meeting with the trio could potentially look like.
What do you think? Could Dennis Rodman be taken seriously as an ambassador between two nations? Would either leader give him the time of day? Could the basketball star open the lines of communication between the two countries? Share your thoughts in the comments section below.
About the artist:

Kevin Eason is a freelance editorial cartoonist and illustrator from New Jersey. His brand of satire covers news events in politics, entertainment, sports and much more. Kevin's work features include: Gannet, TVOne, Uptown, The Urban Daily, NAACP, Cengage Publishing, Bossip, WBLS_107.5FM, and various newspapers and magazines throughout the country. Follow him on Facebook.
PHOTO GALLERY
The Political Satire Comedy Of Kevin Eason
BEFORE YOU GO