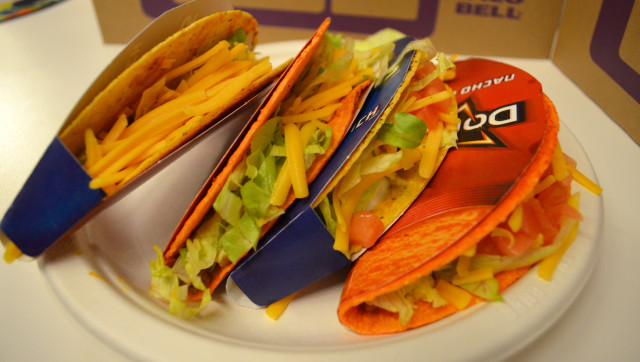 Taco Bell's Cool Ranch Doritos Taco was finally, after much ado, released to the general public Thursday.
Twitter reacted to the release enthusiastically -- no surprise, given how much effort Taco Bell's marketing team dedicates to social media and the fact that the Cool Ranch taco tasted pretty good at a press preview in February.
Now that the hubbub has died down a little, HuffPost Taste wanted to see how the new flavor actually stood up to the old one. (An extra incentive was that a few on our team had never even tried the original.) So we strolled into our local Taco Bell and ordered 16 Doritos Locos tacos (four each of Cool Ranch, Cool Ranch Supreme, Nacho Cheese and Nacho Cheese Supreme) and gave them to a panel of seven expert tasters. Our goal was to determine which Doritos Locos taco was the best of the bunch, once and for all -- so that we don't have to write about them again until there's another new flavor.
The overall reaction of the group was pretty lukewarm, frankly. One tester, who considers himself a big Taco Bell fan but had never ventured into Doritos Locos territory, said that he'd been "disappointed by all four tacos." Even those of us who'd been enthusiastic about eating one Doritos Locos taco -- or a bite of one -- got tired of their artificiality.
That said, our feelings about the four flavors varied rather dramatically. Click through below to find out which one we like the most:
PHOTO GALLERY
Doritos Tacos Taste Test
BEFORE YOU GO