Before "The Simpsons" creator Matt Groening sent Homer on a 23 year, 500-plus episode odyssey of "d'oh!" on FOX, he had another high profile employer: Apple.
Over at the blog Vintage Zen, Linus Edwards compiled the artwork Groening created for Apple during his pre-Homer days. While the college-centric catalog "Who Needs A Computer Anyway?" was an Internet treasure for a few years, we're never seen this pair of promotional posters he drew for the company, featured below.
Both the catalog and the posters use characters from "Life In Hell," the comic strip Groening illustrated before he got his start in television. One poster, titled "Networking In Hell", told prospective Mac buyers to "bring your floppies down to Akbar 'n' Jeff's Communications Hut":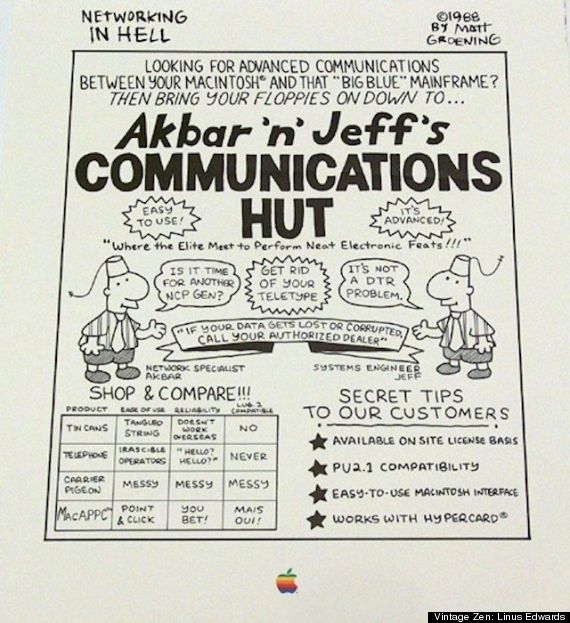 Jeff Miller, an engineer at Apple at the time, told Boing Boing that Groening did the drawing in exchange for a LaserWriter, an Apple printer that sold for as much as $7,000 in the late '80s. The second poster, "Bongo's Dream Dorm," depicts surreal student housing that features a moat full of sharks and a robot chef, playing into the tagline of "Macintosh: Part of every student's wildest dream."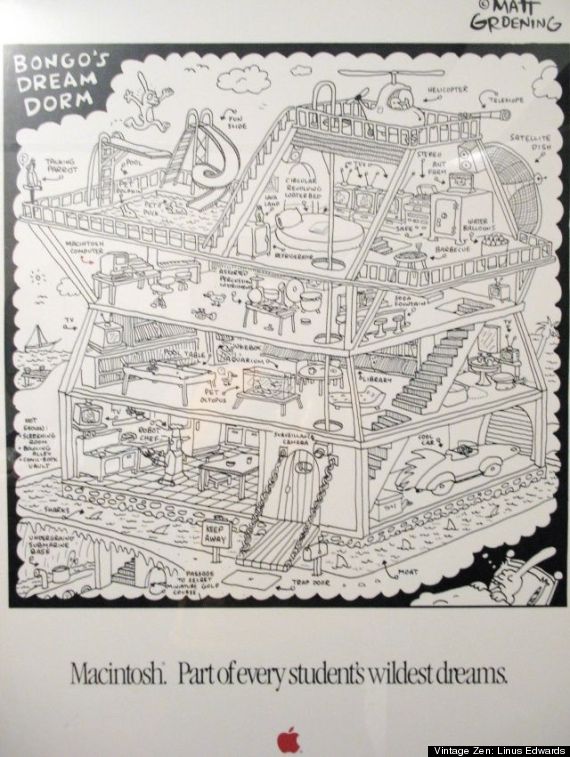 On Vintage Zen, Edwards notes a quick eBay search netted no sales for either of the posters. A bit more digging shows that one of the posters sold for $51 in November 2011 and users on a MacRumors forum posted a now expired listing from 2007.
If you have had your Groening fix yet, jump down the rabbit hole (eh?) below to check out the "Who Needs A Computer Anyway?" brochure, released in 1989.
BEFORE YOU GO
PHOTO GALLERY
Matt Groening's Artwork for Apple