HuffPost Arts&Culture is celebrating Women's History Month with the help of our favorite artists -- female artists, of course. Every day of March we're rolling out a new key player in the art world with a playing card... Get it? Print them out for your own amazing (although probably a bit flimsy) card deck or use them to stay fresh on your favorite women in art.
THE EIGHT OF DIAMONDS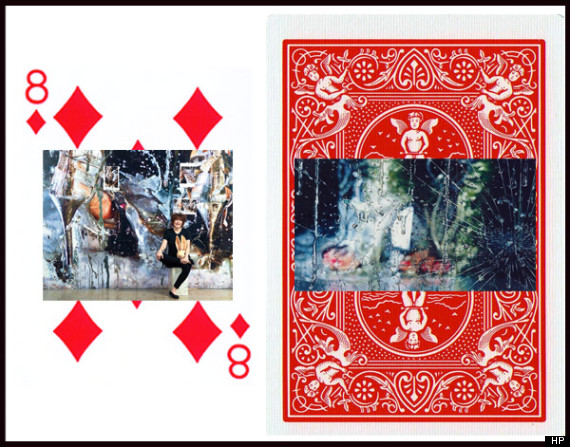 WHO: Marilyn Minter
WHAT: Minter's hyperrealistic paintings ooze with glamor, closeness and desire, turning a stiletto splashing in the rain or a mysterious, flickering tongue pressed up against a glass pane into a moment of visual ecstasy.
WHERE: Minter is showing in a solo exhibition at Regen Projects in LA from April 6 until May 11.
WHY: Minter's delicious paintings combine the traditional aesthetics of high art, advertising, and pornography into portraits of a new femininity. When Rihanna sings, "Shine bright like a diamond," we want to think it's an homage to Minter's glittery work.
Image credit: Marilyn Minter
Big Bang
2012
Enamel on metal
96 x 144 inches (243.8 x 365.8 cm)
Portrait photo credit: Jason Schmidt