Boxer Frank Galarza of Brooklyn is what the media calls a feel-good story. But it took a lot of feeling bad to get there.
Galarza lost his parents to a bullet and drugs when he was a boy. "I think about everything I've been through and I think I kind of bring it in the ring with me," he told The Huffington Post. "I have that little chip on my shoulder."
The unbeaten Galarza (8-0-1) and his chip fight Guillermo Ibarra of Mexico (11-2) in a six-round junior middleweight bout Saturday night at Barclays Center in Brooklyn, N.Y. If all goes as planned, Galarza hopes to vie for a title next year.
Galarza has been making up for lost time. He learned to box at age 17, but admittedly got sucked into the "wrong crowd" as a young adult. In 2009, he says he finally straightened himself out. He returned to the gym that October for the first time in four years and entered the Golden Gloves in early 2010. He won the 165-pound novice division at Madison Square Garden.
Now at 27, a relatively advanced age for a fighter with just nine pro bouts, Galarza brings plenty of life experience into the ring.
His father, Frank Galarza Sr., was a "phenomenal" fighter, the younger Galarza has been told. But "he chose the wrong path as well," his son says. The elder Galarza got shot in the leg in what his son calls a "street-related" incident and later died. Galarza doesn't know the details. He remembers spending time with his dad, but recalls that his father didn't have the means to take care of him.
Memories of his mother, Willa Cabrera, are hazier; she died two years later of an overdose.
"It sticks with me," he says. "I was very confused, constantly questioned what I did. Did I do something wrong to lose my parents?"
These days Galarza works out his anger in training runs on the Brooklyn Bridge. "I use the bridge to mentally prepare myself, imagine myself in the ring," he says. "I visualize my opponents."
Galarza, of Puerto Rican descent on both sides, is all Brooklyn. He lives in East New York with Wilma and Benjamin Collazo, the aunt and uncle who raised him. He grew up in Red Hook and attended the High School of Telecommunication Arts and Technology in Bay Ridge.
He now makes his way across the Brooklyn Bridge for his day job as a personal trainer at the New York Health & Racquet Club in Manhattan. Boxing isn't a full-time living yet. He'll collect in the low four figures for Saturday's match-up. It's just enough to keep Galarza and the chip on his shoulder going.
Says Galarza: "I don't do it for the money."
Update: Galarza stopped Ibarra in the second round Saturday to improve his record to 9-0-1 before a hometown crowd. "I was definitely motivated having people supporting me," he told The Huffington Post. "They're my backbone. My fans motivate me, keep me moving." Galarza said he plans to fight again in May.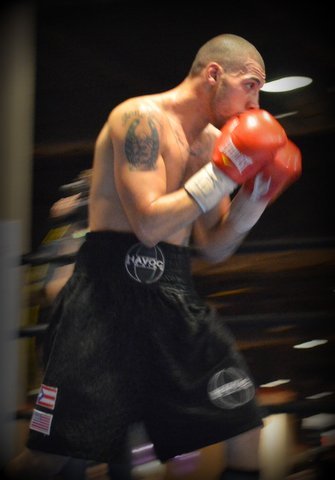 Frank Galarza (pictured previously) was undefeated heading into his match on March 9 at Barclays Center.
BEFORE YOU GO