Miley Cyrus was spotted without her engagement ring earlier this week. X17Online snapped the singer coming from a recording session wearing two diamond bands, prompting rumors that her upcoming nuptials with Liam Hemsworth have been called off. That could be the case, but one would think that a media-savvy celebrity would know better than to tip off the press to a cancelled wedding with such an obvious signal? We think Miley took off her ring for another reason.
Diamond rings, especially the doorknocker-sized baubles that celebrities wear, can be cumbersome. Doing dishes, exercising, washing the car and even typing on a keyboard can be annoying with a humongous rock on one's finger. Perhaps Cyrus was wary of gumming up her ring with a little sweat?
Another possible reason that Cyrus was spotted without the gold-and-diamond ring (created by jewelry designer Neil Lane) could be that she upgraded to another model. Perhaps she traded in her traditional solitaire for the diamond bands she's wearing?
More likely is the chance that Miley took her engagement ring to be cleaned, especially if the wedding is on the horizon. The best way to ensure a sparkling bauble on the big day is by taking it to the jeweler to be professionally cleaned. Or, if she's a DIY-kinda-gal, maybe she was cleaning it at home herself.
See Miley not wearing her engagement ring (that's some other ring):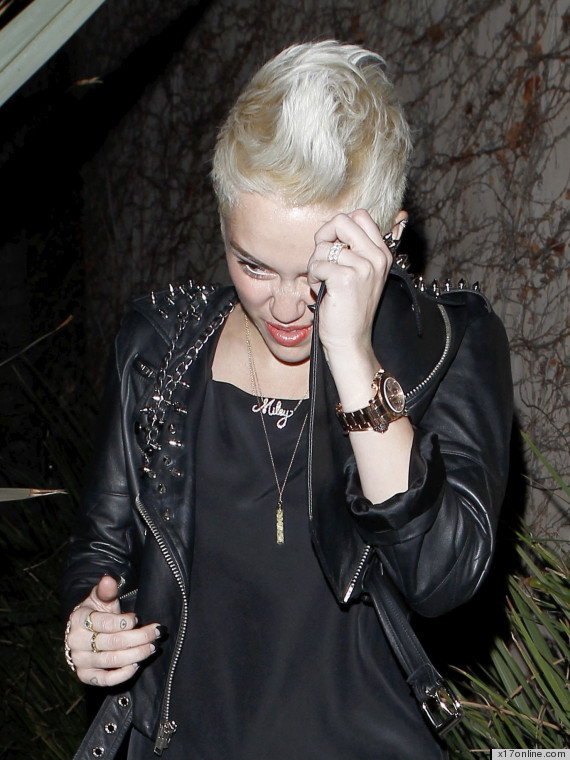 See more pictures of Ms. Cyrus here:
PHOTO GALLERY
Miley Cyrus' Style Evolution