We're back! It's March again in Austin, Texas, which means the annual South By Southwest festival is in full swing. We're here for five days covering all the best things SXSW Comedy has to offer and will be updating you on all the most interesting shows, conversations, parties and more featuring your favorite comedians.
Check back here for updates as HuffPost Comedy Editors Katla McGlynn and Ross Luippold attend stand-up showcases, podcast recordings, panel discussions and more with the over 50 comedians performing at the festival this year. You can also follow our updates on Twitter and Tumblr.
If you see anything newsworthy at SXSW Comedy (or simply run into Bill Murray), send us any and all tips to help us document one of the comedy industry's most innovative festivals.
03/20/2013 6:19 PM EDT
Why Comedians Don't Give A F*ck If You're Offended: What Did We Learn From Our SXSW Comedy Panel?
Katla: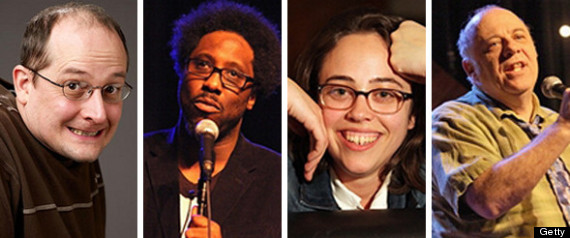 The conversation started with a simple question: "What is the comedian's responsibility to his or her audience?" to which Eddie Pepitone gave an equally simple answer: "To be funny." But is it really that simple?
W. Kamau Bell agreed with Pepitone but noted that due to recent technological advances, comedians have an added responsibilty: owning up the fact that they are often speaking to the world when they perform, even if that isn't their intention. Although it is frowned upon, any audience member can record an in-progress joke or comedy club meltdown on a cell phone and upload it to YouTube, or take to Twitter to share an uncomfortable moment with the world.
"You're not just talking to the people who like you anymore," Bell said, citing the blogger who brought a Daniel Tosh rape "joke" into the public eye as an example. "Lenny Bruce could only offend the people in the room," Bell added.
03/15/2013 2:39 PM EDT
Ken Marino Gets Insulted By 'Wet Hot American Summer' Dig At SXSW
Katla:

Ken Marino and Natasha Leggero of 'Burning Love... by DM-Exclusives
"Burning Love" stars Ken Marino and Natasha Leggero might not have known what they were getting into when they sat down with Dailymotion's Anthony Layser at this year's SXSW festival. Apparently, Layser and Marino have very different understandings of the phrase, "It's so bad, it's good."
03/15/2013 12:27 PM EDT
Tenacious D Rocks Out For JB's New Web Series
Ross:
HuffPost Comedy isn't in Austin anymore, but we wish we were -- Tenacious D played some songs in honor of Jack Black's upcoming web series for Yahoo! Screen, "Ghost Ghirls," which follows two female ghost busters played by Amanda Lund & Maria Blasucci. Also, Val Kilmer, Dave Grohl and Molly Shannon, all frequent collaborators with JB, make appearances in the show.
Kyle Gass and Jack Black: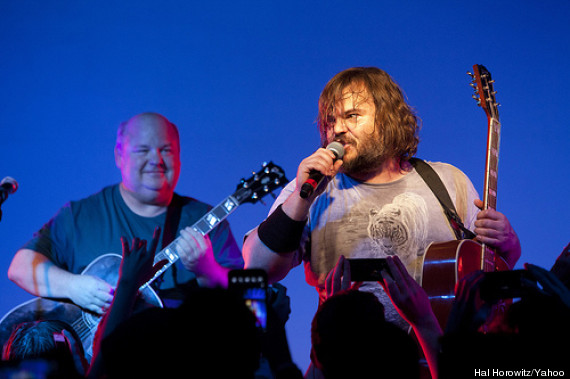 Jack Black, stars Amanda Lund & Maria Blasucci, director Jeremy Konner, VP & Head of Video at Yahoo Erin McPherson: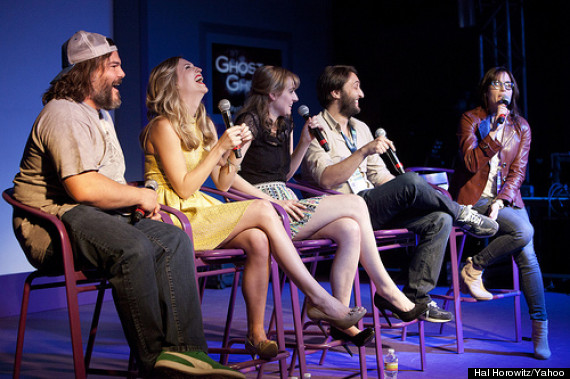 03/14/2013 5:06 PM EDT
Fred Armisen On What Makes A Hipster
SXSW veteran, comedian extraordinaire and "SNL" mainstay Fred Armisen stopped by the Samsung Blogger Lounge to chat with HuffPost blogger and What's Trending co-creator Shira Lazar about his IFC shows "Portlandia" and "Out There" as well as that tricky thing we call "hipsterdom."
Watch the video below and click here to read the full story.
03/14/2013 4:55 PM EDT
Dailymotion Talks To W. Kamau Bell & Janine Brito Of 'Totally Biased,' Plus Reggie Watts!
Katla:
Dailymotion's Anthony Layser sat down with Janine Brito and W. Kamau Bell of "Totally Biased" at Austin's Hideout theater during SXSW. Watch their interview below wherein they discuss the show, their boss (Chris Rock) and our panel on which they appeared to discuss "Crossing The Line."

W. Kamau Bell and Janine Brito of Totally... by DM-Exclusives
Also check out Layser's thoroughly sarcastic conversation with comedian Reggie Watts about "Comedy Bang! Bang!" here:

Comedian Reggie Watts Talks IFC's 'Comedy Bang... by DM-Exclusives
03/11/2013 9:10 PM EDT
EXCLUSIVE: Marc Maron Talks Awkward James Franco Interview
Katla:
This morning Ross and I got to talk to Marc Maron about Sunday night's slightly awkward live "WTF" interview with perpetual Rennaissance man James Franco. Marc met us at The Driskill Hotel and explained exactly what went down both on stage and behind the scenes. Watch the video below and click here for more info.
03/11/2013 3:40 PM EDT
Scott Aukerman Gets Comfy For Our Interview At The Driskill
Check back later for our video interview with one of SXSW Comedy's favorite people!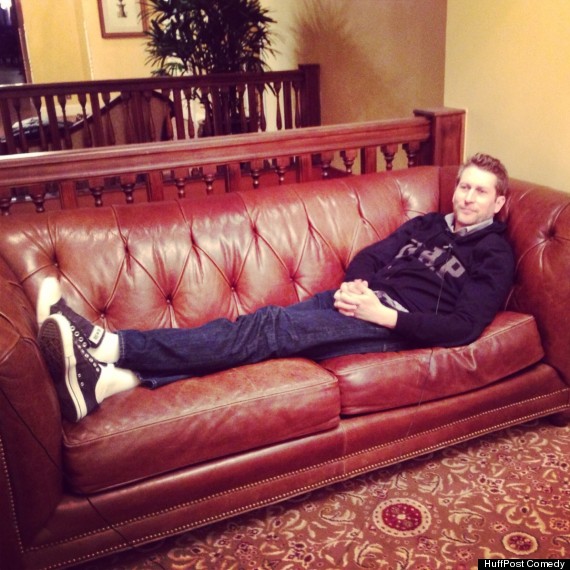 03/10/2013 9:00 PM EDT
Tim & Eric, Sarah Silverman, Reggie Watts And Michael Cera At JASH Panel
Katla:
Our very own Ross Luippold had the pleasure of moderating this afternoon's JASH panel at SXSW. Stay tuned for more on their conversation about comedy in the digital age.
03/10/2013 6:06 PM EDT
James Franco At "WTF" Live With Marc Maron
Katla:
Hey, did you know that we're on Instagram, too? Follow us for more blurry pictures from comedy shows!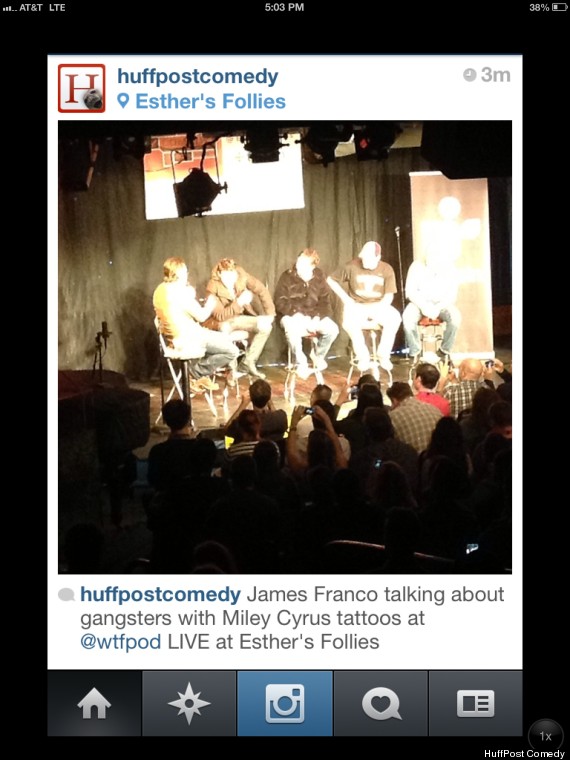 03/10/2013 4:57 PM EDT
Getting Ready To 'Cross The Line'
Katla:
Joe Garden on The Onion's recent Twitter controversy: "Can we make a progress omelette without breaking a few c**t eggs?"
Stay tuned for full coverage of our panel with Garden, W. Kamau Bell, Janine Brito and Eddie Peppitone.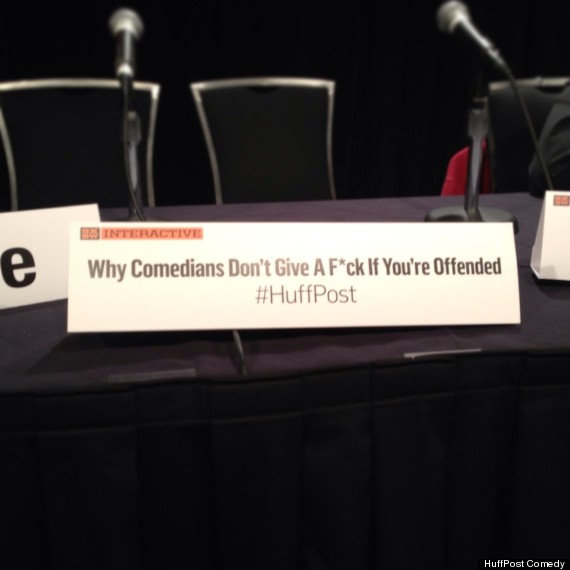 BEFORE YOU GO