The classic example of Japanese art may be "The Great Wave Off Kanagawa" by Katsushika Hokusai, where a dangerous swell rises above two helpless boats. While this suspenseful landscape is unforgettable, it is one of many woodblock prints produced between the 17th and 20th centuries in Japan. Called ukiyo‐e -- "pictures of the floating world" -- these prints feature landscapes, myths and theatrical scenes.
In a new exhibition titled, "Edo
 Pop:
 The
 Graphic
 Impact
 of
 Japanese
 Prints," at the Japan Society in New York, ukiyo-e becomes a window into the visual history of popular art in Japan. The show includes 100 woodcut prints and 30 works inspired by this traditional technique from 10 international artists.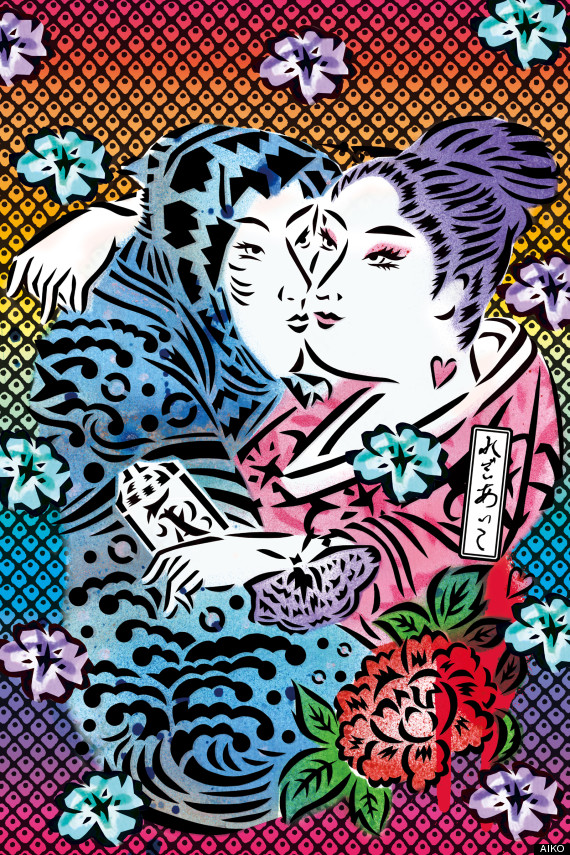 During the Edo Period in Japan (1615–1868), Tokyo quickly became a cosmopolitan city with a lively arts and culture scene. The availability of cheap woodblock prints meant the average citizen could be an art collector. The Japan Society commissioned AIKO, a Brooklyn-based street artist, to create a mural at the entry of the exhibition. Through this updated view, brothel-dwellers in traditional prints become edgy "grrls" in AIKO's work.
"Edo Pop" is on view at the Japan Society in New York from March 9 - June 9. Take a look at the slideshow below and let us know what you think about the updated ukiyo-e prints.