The oldest son of Rick Santorum has made his own run for president of his freshman class at the Citadel, a public military college in South Carolina.
John Santorum launched a campaign Facebook page on March 1 with a photo that reads "Help Me Finish What My Dad Couldn't." His father, famously not a "snob" about college education, competed unsuccessfully for the 2012 Republican nomination for president.
The son made the dean's list for the fall semester, meaning he had a GPA of 3.2 or higher, but that's not what he boasts about on his campaign page. Instead, he proclaims "I Love America & I Love Guns" and says he has an "A+" rating from the National Rifle Association. (Which is the first NRA rating we've heard of for a college student.)
John's Facebook page is full of people supporting him who clearly would love to see his father in the White House.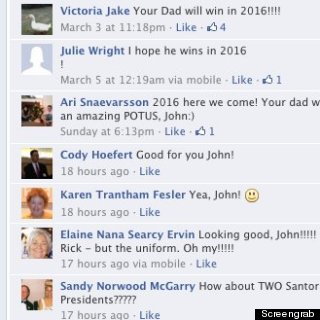 It's safe to suppose that many of those fans found John's Facebook page through his father's tweet:
Son John is running for Class President at The Citadel, like his Facebook page -on.fb.me/15oAc2c

— Rick Santorum (@RickSantorum) March 2, 2013
The Citadel is considered a go-to campaign spot among GOP presidential contenders, according to The New York Times. The senior Santorum worked the campus hard during the 2012 electoral cycle, the Times reported last year:
Mr. Santorum has aggressively campaigned at Citadel, even learning cadets' names. He is scheduled to speak to the Citadel Republican Society on Friday evening, and hold his primary party on the campus the next night.

Townes Moore, 20, a cadet from Charleston, has volunteered for the Santorum campaign since the summer. He estimates that he has made at least 5,000 phone calls to voters.

"If Rick Santorum were president, I'd be honored to be sent overseas," he said. "He's strong on national security, so I'd feel very safe with him in office."
Rick Santorum was even hitting up dinners hosted by the Citadel Republican Society back in 2010.
As for John, the class of 2016's student government elections were scheduled for March 6, so we're wondering whether he won. Santorum hasn't issued an update on Twitter, John doesn't use his own Twitter account much, and there are no election results on the Citadel's website or the student government's Facebook page.
We've reached out to the Citadel and will update when we hear back.
UPDATE, March 13: Col. L. Jeffrey Perez, Ph.D. told HuffPost in an email that the results of the elections will not be known until the end of the week.
UPDATE, March 14: Charlene Gunnells of the Citadel's media relations office confirmed to HuffPost that John Santorum did not win the election to be sophomore class president for next school year.
BEFORE YOU GO
PHOTO GALLERY
Candidates' Kids On The Campaign Trail