Even DeAndre Jordan seemed to feel a bit bad about the emphatic one-handed, alley-oop slam he unleashed on Brandon Knight on Sunday. Moments after forcing the smaller Pistons' guard to co-star in his latest poster, the Clippers' center had an almost sheepish Oops-I-didn't-mean-to-debacle-that-harmless-young-man-just-then-in-front-of-all-these-nice-people expression on his face as he walked toward the far end of the court to collect himself before his trip to the free throw line. By plowing through Knight and starting "RIP Brandon Knight" trending on Twitter, Jordan actually managed to draw a foul. Of course, there was no way that dunk would be worth merely two points.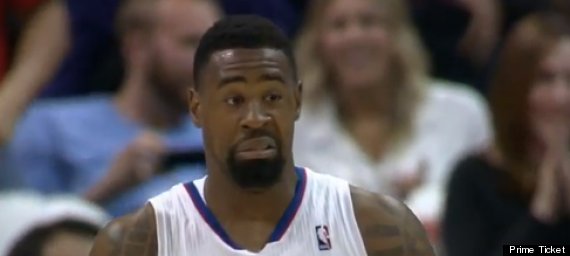 "Right after I dunked it I saw him fall and I heard a big thud, so I was kind of looking to see if he was all right," Jordan told Petros and Money on Fox Sports Radio. "And then I looked at my teammates and their reactions; they were jumping off the bench."
Even Knight seemed to have a sense of humor about the dunk orchestrated by Chris Paul and hammered home by Jordan, tweeting a pitch perfect response to all the attention his defensive effort and evisceration garnered.
It wasn't in the scouting reports that the clippers threw lobs lol

— Brandon E Knight (@BrandonKnight07) March 11, 2013
All told, this posterization was far more collegial than what Shawn Kemp visited upon Alton Lister during the 1992 NBA Playoffs. In Game 4 of the Western Conference Quarterfinals, Lister, a 7-footer who spent 16 seasons in the NBA and even picked up a few MVP votes early in his career, was on the receiving end of the signature slam thrown down by the Seattle Supersonics' dynamic dunker. Dubbed the "Lister Blister," the slam not only displayed Kemp's combination of speed and power but put his flair -- that cuff -- and fury -- that point -- on full display. After toppling Lister en route to the rim, Kemp landed and pointed at him as he lay on the floor beyond the baseline.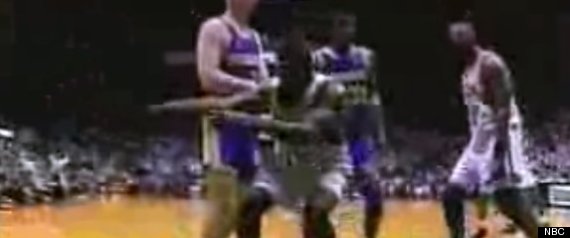 "That was a playoff game and we were giving out some pretty nasty fouls in that fourth quarter right there. So, what you seen was a little frustration come out of me," Kemp later reflected to TNT about the dunk. "So, I used to tease the guys on the court and I used to be like, 'Hey, if you start that with me, I'm going to put you on a poster tonight.'"
Liston and Knight are hardly the only players to be put on a poster. Hall of Famers and journeyman have been posterized and done the posterizing over the years. Lithe, lean wing players have skied over towering post players and mighty centers have down what Jordan did to diminutive guys like Knight. Even Shaquille O'Neal got served a facial -- although he claimed that he only really got dunked on that one time.
From the "Lister Blister" and Chamberlain and Russell trading facials to John Starks' epic dunk over the Chicago Bulls and the Bulls' domineering dunks over Patrick Ewing, here are a 101 of the most memorable posterizations in NBA history (that are available on YouTube).
How does DeAndre Jordan "Knighting" Brandon Knight rank? Which is the most devastating? The most overlooked? Let us know which we're missing in the comments section.
BEFORE YOU GO
PHOTO GALLERY
101 NBA Posterizations