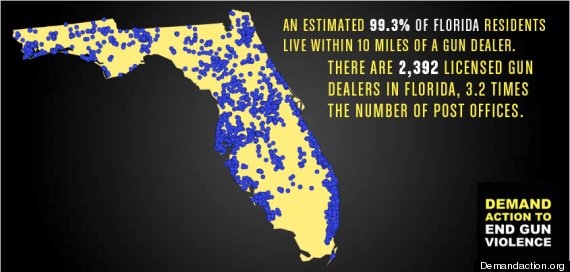 How overwhelming is Florida's gun culture? A study by Mayors Against Gun Violence reveals that Florida has 3.2 times as many federally licensed gun dealerships as post offices.
In fact, the group reports, 99.3 percent of Sunshine State residents live within 10 miles of a firearms dealer, which they say disproves the gun lobby's claims that background checks would be a burden for private gun sellers.
Instead, it would be relatively convenient for individuals to meet buyers at dealerships to run a background check before a sale.
"It's clear that, no matter where you live in America, getting a background check will be quick and convenient – who wouldn't drive ten miles to save a life? Americans overwhelmingly support background checks for all gun sales," said New York City Mayor Michael Bloomberg in a statement. "It's time for Congress to make it a reality."
The statistics are also alarming in light of a review by Harvard University's Injury Control Research Center that found "a broad array of evidence" indicates that where there are more guns, there is more homicide. The Atlantic reports that 9,151 Floridians died by gun between 2007 and 2010, behind only California and Texas.
Despite all the violence, legislators in Tallahassee pushed through a 2011 law that prevents local and municipal governments from enforcing firearms laws stricter than the state's, and in July reduced application and renewal fees for concealed carry permits. Florida became the fastest state to reach one million concealed carry permits in December.
Nationwide, there 58,344 federally licensed gun dealers in the United States, according to the mayors group, which is nearly four times the number of McDonald's.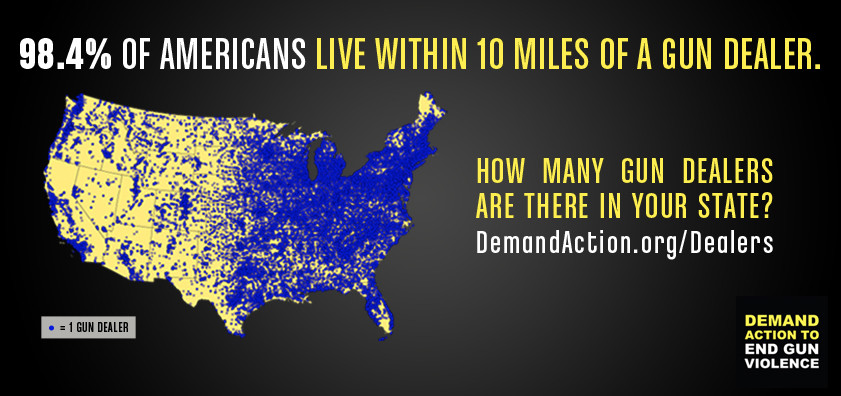 See how other states stack up at demandaction.org.
BEFORE YOU GO