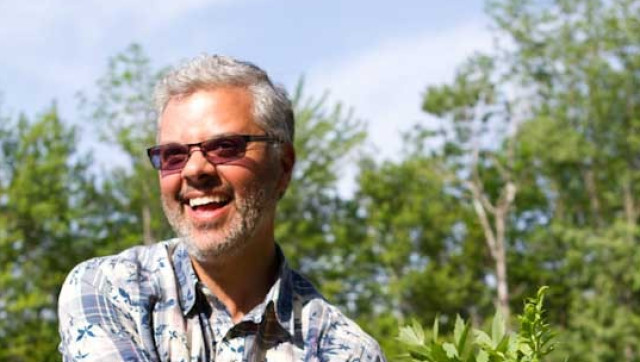 Last week, Washington Post Food and Travel editor Joe Yonan put out a provocative essay. It's about, as he put it, his "second 'coming out'" -- this time as a vegetarian:
I've been calling this my second "coming out," because it reminds me of the first time, when I was dealing with quite a different subject.

For one thing, when I tell people about my recent switch to vegetarianism, I'm getting the same kinds of questions, especially from chefs and fellow food journalists, that I did so many decades ago when the news was about my sexual orientation. One chef sidled up to me while I was at the bar of her establishment recently and whispered, "Is it true what I heard?" And a few weeks ago, when I broke the news to a friend over dinner, she responded with two queries: "When did this happen?" and "How long do you think it's going to last?" They were the equivalent of those parental hand-wringers "Is this a phase?" and "Where did we go wrong?" I'm expecting someone, somewhere, to say, "You know we love and support you, no matter what you eat."
Since then, Yonan's disclosure has been dissected and critiqued -- he was, for example, on the radio explaining why being an out vegetarian food editor isn't, in NPR's phrasing, "career murder."
Like he told NPR, Yonan -- whose new book, "Eat Your Vegetables: Bold Recipes for the Single Cook", is due out this summer -- tells HuffPost DC that, overall, reactions have been overwhelmingly positive. Especially to the extent it's understood that as the food editor, he isn't generally the person reviewing restaurants.
"People have always had a hard time understanding the difference between the food editor and the food critic," Yonan says. "A lot of people, whenever I tell them what I do, they start asking me what it's like to eat out at so many restaurants on the Post's dime. And I have to explain to them that I'm not the food critic...Then they ask, 'So what's it like, wearing all those disguises?'"
As undisguised fans of meat-free eating ourselves -- and understanding that he's not the paper's food critic -- we asked Yonan to tell us about his favorite places to eat vegetarian food in the District:
PHOTO GALLERY
Joe Yonan's Top Vegetarian Restaurants In D.C.
Want more? Read Yonan and the Post's food critic Tom Sietsema's story about eating meat-free around D.C. here. And, in case you missed it, here's the coming out essay.
BEFORE YOU GO
PHOTO GALLERY
Food Trends Others Predict For 2013