According to a new study by gun control group Mayors Against Illegal Guns, 98.1 percent of Coloradans live within 10 miles of a gun dealer in the state and that those gun dealers outnumber post offices by about 3 to 1.
The study points out that there are 1,375 licensed gun dealers in Colorado -- 3.1 times the number of post offices -- and Mayors Against Illegal Guns says that bolsters the argument for universal background check legislation because a private seller could meet a buyer at a local gun store and at most would only have to drive 10 miles away to run a background check and complete the sale. Take a look at the Colorado map below: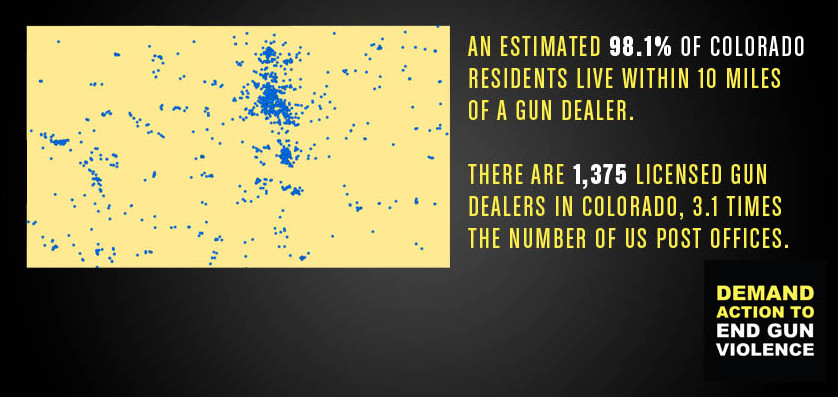 Nationally, similar percentages hold true as well -- 98.4 percent of Americans live within 10 miles of a gun dealer. Full U.S. map below: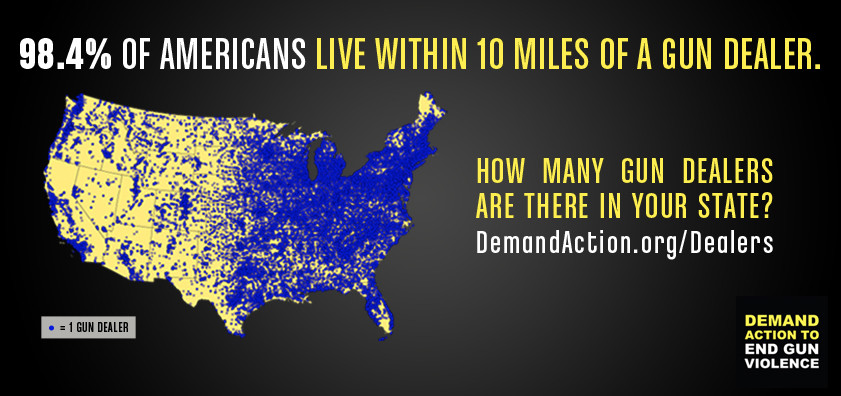 "The gun lobby has long argued that requiring background checks would be burdensome for sellers –- these maps definitively refute that idea," said Mayors Against Illegal Guns Co-Chair and New York City Mayor Michael R. Bloomberg in a statement. "It's clear that, no matter where you live in America, getting a background check will be quick and convenient –- who wouldn't drive ten miles to save a life? Americans overwhelmingly support background checks for all gun sales. It's time for Congress to make it a reality."
The vast majority of background checks for gun sales take only minutes to complete and despite a recent surge in gun sales in Colorado which caused a backlog of background checks by the Colorado Bureau of Investigation creating wait times that extended over nine days near the beginning of 2013. That surge began to drop off by late-January, still with lengthy wait times of over 7 days, but is expected to return to normal.
"The NRA's argument that background checks are 'inconvenient' for gun sellers and buyers is ridiculous, especially since almost every American lives within ten miles of a licensed gun dealer," Mayors Against Illegal Guns Co-Chair and Boston Mayor Thomas M. Menino said in a statement. "These checks are quick, easy measures that will help make our neighborhoods safer. That's why Americans almost unanimously agree that we need background checks for every gun sale –- and that's why it's time for our leaders in Washington to act."
The gun control group says this evidence flies in the face of statements from Wayne LaPiere who recently said that the NRA is opposed to closing the so-called gun-show loophole, which allows private sellers to sell firearms without background checks.
But those comments in congressional testimony directly contradict testimony that LaPierre gave before the Senate in 1999, when he said, "We think it's reasonable to provide mandatory instant criminal background checks for every sale at every gun show. No loopholes anywhere for anyone."
LaPierre's exchanges with members of the Senate Judiciary Committee grew testy at times, especially when LaPierre argued that universal instant background checks would place an undue burden on "the little guy" in the "real world," while criminals would get the guns illegally.
"None of it makes any sense in the real world!" LaPierre said about the background checks. "We care about safety, and we support what works."
LaPierre said his opposition to universal background checks is because "background checks will never be 'universal' -- because criminals will never submit to them."
Colorado's House Bill 1229, which would require background checks for all gun sales and transfers in the state, passed in the Senate Monday and now heads to Gov. John Hickenlooper who is expected to sign the bill into law.
President Obama is also pushing a federal gun violence package, including a universal background check bill which passed the Senate Judiciary Committee on Tuesday.
Via Mayors Against Illegal Guns:
Under current law, federally licensed gun dealers are required to conduct criminal background checks on all gun buyers, however, around 40 percent of U.S. gun transfers are conducted by unlicensed "private sellers" who are not required to conduct a federal check, and who often do business at gun shows and on the Internet. This indicates that about 6.6 million guns were transferred in the U.S. in 2012 with no background check for the buyer. This loophole allows dangerous people who are prohibited from buying guns – including felons, domestic abusers and the seriously mentally ill – to avoid a background check by simply avoiding licensed dealers.
The Huffington Post's Chris Kirkham reported that the private gun sale background check loophole creates an "invisible" firearms market that is severely lacking in regulation. Via Kirkham's report:
More than three-quarters of states have no laws requiring background checks or documentation during private party sales, increasing the risk of weapons falling into the hands of convicted felons, juveniles or those who are mentally ill. As lawmakers in Washington examine gun control measures in the wake of last week's school massacre in Connecticut, many advocates and researchers are pushing to extend federal regulations requiring background checks and registrations to private gun sales.

"Fixing this would be one of the single most important things we could do to address overall gun violence," said David Kennedy, director of the Center for Crime Prevention and Control at John Jay College of Criminal Justice in New York. "A lot of people don't understand that this is the way the world works. It means that people who everybody agrees shouldn't get guns have little trouble getting guns."

Under the current system, federal law on gun purchases extends only to the first point of sale. Federally licensed firearms dealers are required to perform background checks on prospective buyers to screen out those with felony records, a history of domestic violence or mental illness and several other categories. Dealers are also required to keep detailed records of customers.

On private party sales, none of those restrictions apply under federal rules. States come up with their own laws governing the secondary gun market, and the restrictions vary widely, leaving an uneven patchwork of regulations from state to state.
Colorado already requires background checks at gun shows, but there is no legislation in place that requires checks on a private party firearm sale.
Although, in general, mass shooting events have made little lasting impact on public support for stricter gun laws, polls following the Sandy Hook shooting suggests a bump in support. A HuffPost/YouGov survey from December found that 50 percent of Americans say gun laws should be made more strict. The poll found support for banning semi-automatic weapons as well as magazines that hold more than 10 rounds.
Recent polling from Project New America/Chris Keating and The Denver Post found that a majority of Coloradans' favor stricter gun control too.
Fox31 first reported on a survey from PNA/Chris Keating which asked 905 Colorado voters, in general, if they favor stricter gun control -- 55 percent of Colorado voters said they favor of stricter gun control, while only 40 percent were opposed.
The same poll also asked Colorado voters about specific gun law proposals and the margin of support was wide for nearly all the measures in question, according to PNA/Chris Keating:
95 percent of voters agree that people with "serious mental health problems" should be prevented from owning a gun.
80 percent of voters agree that judges should be able to order someone who is "convicted of domestic violence or given a restraining order" to surrender their guns to the court.
80 percent of voters agree that all private gun sales should go through a licensed dealer and be subject to a background check.
65 percent of voters agree that guns should be banned on college and university campuses.
61 percent of voters agree that the sale and possession of semi-automatic guns and assault rifles should be banned.
61 percent of voters agree that the sale and possession of high-capacity ammunition clips, which allow some guns to shoot more than 10 bullets before reloading, should be banned.
The PNA/Keating poll echoes similar sentiments found in a recent Denver Post poll which found greater support for gun control measures than for gun-owner rights. According to The Denver Post, 60 percent of Colorado voters support proposals that would: ban assault-style rifles, limit high-capacity magazines and require universal background checks on all gun sales.
Although the Post poll found that 50 percent of those who responded say it is more important to protect gun ownership to 45 percent who say it is more important to control gun ownership, those percentages have shifted significantly since the last time the Post conducted the same poll in September. Last September, the breakdown was 56 percent saying it was more important to protect gun rights to only 39 percent saying it was more important to control guns.
BEFORE YOU GO
PHOTO GALLERY
Pivotal Moments In The Federal Gun Control Debate