Noah Davis' current exhibition at Roberts & Tilton in Los Angeles, called "The Missing Link," features murky clues in piercing colors, filling in gaps for memories and mysteries.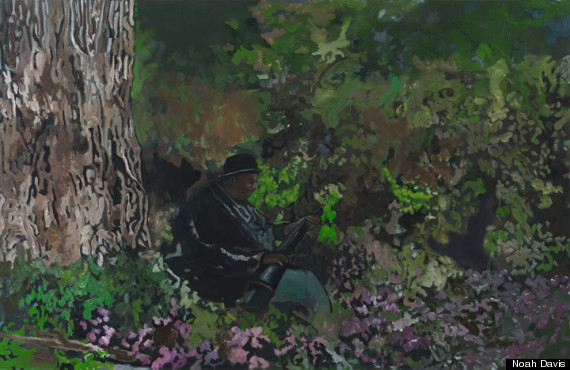 In Davis's world, faces are obscured by dark gobs of pigment while fedoras are sharp as ever, giving the canvases a folk-film noire twang. The 30-year-old is known for his art historical literacy, incorporating influences that date back to James Ensor and Balthus. The artist explained in an interview with Ed Templeton his ritual of scouring the Met and other uptown institutions for knowledge: "I would run over to the galleries uptown and pretend I was some fancy collector buying art with pretend money."
With popping hues and a dark sense of humor, Davis gives viewers clues without context -- missing links to an unknown narrative. What do you think of this up-and-coming painter's newest collection? Let us know in the comments.
"The Missing Link" runs until March 30, 2013 at Roberts & Tilton in LA.
BEFORE YOU GO