Catholic faithful react to the announcement of the new pope, Francis I, in St. Peter's Square in Vatican City:
PHOTO GALLERY
St. Peter's Square Reacts To New Pope
BEFORE YOU GO
03/13/2013 5:57 PM EDT
Pope Francis Has Only One Lung
HuffPost's Amanda Chan reports:
Jorge Mario Bergoglio, who was elected to be Pope Francis today (March 13), only has one lung, according to news reports.

The 76-year-old from Buenos Aires had to have his other lung removed when he was a teenager because of an infection, the Associated Press reported.
Continue reading here.
03/13/2013 5:26 PM EDT
Pope Francis is the First Pope From the Americas
AP reports:
Pope Francis is the first ever from the Americas, an austere Jesuit intellectual who modernized Argentina's conservative Catholic church.

Known until Wednesday as Jorge Bergoglio, the 76-year-old is known as a humble man who denied himself the luxuries that previous Buenos Aires cardinals enjoyed. He came close to becoming pope last time, reportedly gaining the second-highest vote total in several rounds of voting before he bowed out of the running in the conclave that elected Pope Benedict XVI.
Continue reading here.
03/13/2013 5:09 PM EDT
Statement from Cardinal Seán O'Malley, OFM, Cap.
I join my brother Cardinals in giving thanks to God for the election of Pope Francis I, the 266th successor of St. Peter and Vicar of Christ. The clergy, religious and laity of the Archdiocese of Boston celebrate this blessing for the Church.
At Caesarea Philippi, Jesus commissioned St. Peter the rock upon which the Church would be built. Pope Francis continues that mission in an increasingly secular culture, where many people have not come to know or have forgotten that Jesus is our Savior and Redeemer. The world will greatly benefit from Pope Francis witnessing Jesus' call for us to love God and love one another. We pledge our faithful support for the Holy Father as he leads the Church in proclaiming the New Evangelization, inviting all people to a develop a closer relationship with Christ and to share that gift with others.
May God grant Pope Francis the grace and strength to lead the worldwide community of more than one billion Catholics. The Holy Father has already shown us his deep humility in the invitation to pray with him, for him and for the Church. We pray that the Holy Spirit, who led us to choose the Holy Father, will guide him in witnessing the eternal truths of our faith.
03/13/2013 4:42 PM EDT
New Pope Francis of Argentina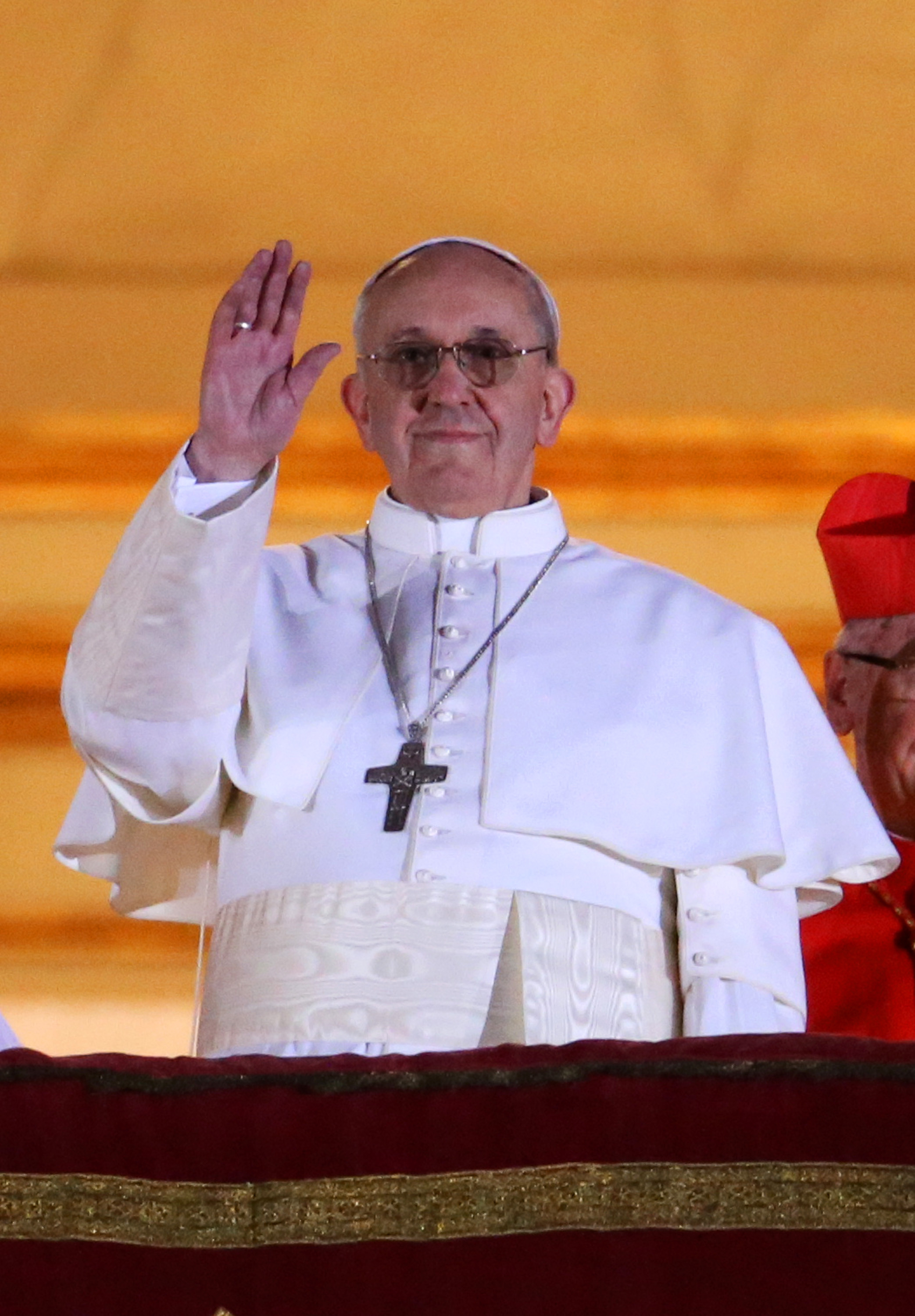 Newly elected Pope Francis I appears on the central balcony of St. Peter's Basilica on March 13, 2013 in Vatican City, Vatican. Argentinian Cardinal Jorge Mario Bergoglio was elected as the 266th Pontiff and will lead the world's 1.2 billion Catholics. (Peter Macdiarmid/Getty Images)
03/13/2013 4:31 PM EDT
@ RachelDonadio :

Installation Mass for new pope will be Tuesday, March 19 at 9 a.m.
03/13/2013 4:28 PM EDT
Statement by the President on His Holiness Pope Francis
On behalf of the American people, Michelle and I offer our warm wishes to His Holiness Pope Francis as he ascends to the Chair of Saint Peter and begins his papacy. As a champion of the poor and the most vulnerable among us, he carries forth the message of love and compassion that has inspired the world for more than two thousand years—that in each other we see the face of God. As the first pope from the Americas, his selection also speaks to the strength and vitality of a region that is increasingly shaping our world, and alongside millions of Hispanic Americans, those of us in the United States share the joy of this historic day. Just as I appreciated our work with Pope Benedict XVI, I look forward to working with His Holiness to advance peace, security and dignity for our fellow human beings, regardless of their faith. We join with people around the world in offering our prayers for the Holy Father as he begins the sacred work of leading the Catholic Church in our modern world.
03/13/2013 3:40 PM EDT
Pontifex Sends Out First Tweet Since Sede Vacante
03/13/2013 3:18 PM EDT
@ HuffPostRelig :

Cardinal Jorge Mario Bergoglio's new name is Francis I. He is 76 years old, and is the first Jesuit pope. #habemuspapam
03/13/2013 3:15 PM EDT
@ HuffPostRelig :

Cardinal Jorge Mario Bergoglio of Buenos Aires, Argentina has been announced as the new pope #habemuspapam
03/13/2013 3:06 PM EDT
Thanksgiving Mass Tonight
@ jaweedkaleem :

churches are already planning thanksgiving masses for the new election -- philly archdiocese will have one tonight #conclave