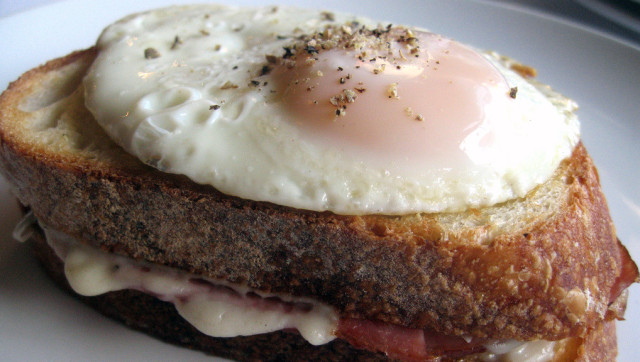 If you're of the mind that a grilled cheese sandwich does not qualify as a suitable dinner, we have two things to say. First, why in the world not? Second, we have a compromise and it's called a croque madame.
What we like about grilled cheese sandwiches -- besides all the melted cheese -- is that it makes for a quick and stress-free dinner option. But we understand that it doesn't have a ton of nutritional value. The croque madame, on the other hand, has more to offer.
The croque madame is a traditional French bistro dish -- a ham-and-cheese grilled sandwich topped with a fried egg. It's filling, full of protein, and still technically a grilled cheese (which means it's the best of both worlds). Next time you need to make dinner in a hurry, you should consider this sandwich.
For full disclosure, you should know that the croque madame is not as simple to make as a simple grilled cheese sandwich -- béchamel sauce is involved. With that said, it isn't challenging in any respect and can be made in just 10 minutes. If the sound of bechamel sauce scares you, just know that it requires nothing more than the ability to stir. And once you master bechamel, there are so many other dishes that become available to you.
This is how you make a croque madame.
Make the bechamel sauce. Just follow this recipe, everything will be fine. Top your slices of bread with a nice layer of bechamel sauce. Next, add cheese. Then a thin layer of dijon mustard (this is key). And top it off with a slice of ham. Combine the slices of bread and grill it in a buttered pan just as you would a grilled cheese.
While the sandwich is cooking, preheat the broiler. Once the sandwich is nicely browned, top it with bechamel and broil it until bubbling and golden -- about 2-3 minutes. While the sandwich is broiling, fry the egg. Top the sandwich with the egg, et voila, your croque madame dinner is ready to eat.
Want to read more from HuffPost Taste? Follow us on Twitter, Facebook, Pinterest and Tumblr.
In the mood for a grilled cheese? Check out these 25 recipes.
PHOTO GALLERY
25 Mouth-Watering Grilled Cheese Recipes
BEFORE YOU GO