A Holocaust survivor is looking for his long-lost twin, and thousands on Facebook are helping him in his search.
The 72-year-old Auschwitz survivor -- identified only as "Menachem B." by TODAY.com -- was 4 years old when he was liberated from the concentration camp in 1945.
SCROLL FOR PHOTOS
The Daily Beast reports that Menachem doesn't remember his time at the camp, but had long suspected there was an important part of his past he needed to reconnect with. That part turned out to be the twin brother he had not seen since his time at Auschwitz, 68 years ago.
Now, thanks to the help of genealogist Ayana KimRon, Menachem, who now lives in Israel, has not only learned more about his pre-war identity but has solid proof that his brother had been with him in Poland. His twin may also have survived the war.
"All my life I've known that he was alive somewhere; I felt that he was alive," Menachem told KimRon, according to the Daily Beast.
Last year, KimRon uncovered the twins' original names. The siblings are listed in a record, put together by Candles Holocaust Museum, as Elias and Jeno Gottesmann.
Since the discovery, Menachem and KimRon have been searching desperately for Jeno, who was nicknamed "Jolli."
"How can I not help a Holocaust survivor who walks through life with such questions and hopes? Wasn't Auschwitz enough of hell for him?" KimRon told Today.com of her decision to help Menachem on his quest.
After months of fruitless searching, KimRon finally decided to turn to Facebook for help. Earlier this month, she created a Facebook page called A-7734, after the number that had been assigned to Jolli by the Nazis.
"Looking for Jolli -- child survivor A7734 from Auschwitz, 4.5 years old at liberation," KimRon wrote in a post that accompanied a photograph of Menachem's brother at age 4. "Born in 1940. Clues lead to possible adoption by a Christian family, then to the USA. Whatever name and location, his tattooed number is A7734. And his brother still hopes to meet him. Please help us by spreading the word."
(Story continues below.)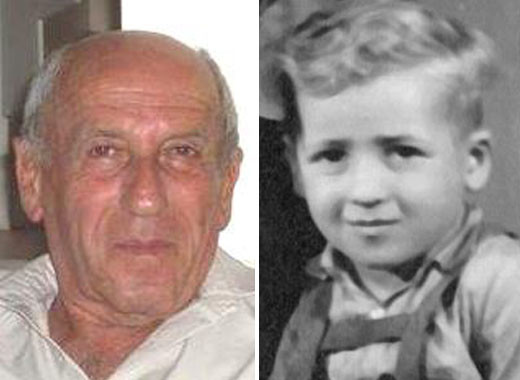 A recent photograph of Menachem (left) was posted on Facebook last week. At the right, Menachem's twin brother, Jolli, at age 4. (Credit: Facebook/A7734)
Jolli's photo has since been shared more than 45,000 times by Facebookers from all across the United States, Canada, Wales, the Czech Republic and beyond.
"Don't give up! Miracles happen every day!" wrote one Facebook user on Wednesday.
"I was astonished by the amount of comments, and I'm very grateful for each and every one one of them," Menachem told the Daily Beast in response to the outpouring of Facebook love.
Visit the Daily Beast (here) for more on Menachem's incredible story. Also visit the A-7734 Facebook page for more information and updates.
BEFORE YOU GO