Prepare for Twitter hell. As of Wednesday, Twitter is allowing users to put line breaks in their Tweets. Twitter seems pretty excited about it:

Okay, fine. It might not be all bad. Allowing line breaks will make some Tweets better. For example, the following tweet depicting a conversation is definitely improved by the use of line breaks:

The thing is, though, for every person who uses line breaks correctly, there will be someone like me completely ruining your feed with some nonsense: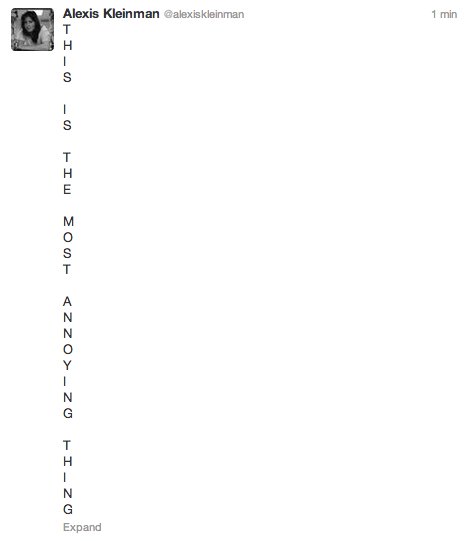 After I wrote that, I looked at my feed and it was almost entirely taken up by that one tweet. I felt so bad about myself that I deleted it. I have a conscience.
The problem is, odds are most of the people you follow don't, so get ready for your Twitter feed to be a mess. Line breaks work both on the Twitter website and the mobile app. Interestingly enough, it doesn't work when you embed the tweets. We have reached out to Twitter for comment and will update if they respond. Until then, try not to unfollow everyone who plays with this new feature. Hopefully their experimentation will die down soon.
BEFORE YOU GO
PHOTO GALLERY
What Not To Post On Twitter: 11 Things Your Tweeps Don't Need To Know(CLONED)