While some stars are busy posting nearly naked (see: Rihanna) or completely naked (see: Chrissy Teigen) photos of themselves on Instragram, Beyonce takes a more, well, artistic approach to the to the social media platform.
The Grammy Award-winning singer is showing off her quirky side by taking pictures in a string of unconventional locations, which have included, but are not limited to, the shower, an arcade and even a UPS truck.
In her latest snap, BaddieBey is seen dressed in a fur-lined parka, curve-hugging leather pants and wedge boots while popping a wheelie on a motorbike. That's one hot mama and a fun way to get folks revved up for her upcoming album and world tour.
And we're not the only ones amused by Queen Bey's Instagram antics. One commenter noted "That looks like fun..." while another one noted "That's some good Balance chic! #youbettawerk". But alas, there's always an impatient voice in the crowd (or voice of reason). This fan wrote, "Get off the fuckin bike and release a song already!!!!!!!!!!"
Your fans have spoken.
Here's a look at Beyonce popping a fierce wheelie and check out the slideshow below for more of the star's silly Instagram pics.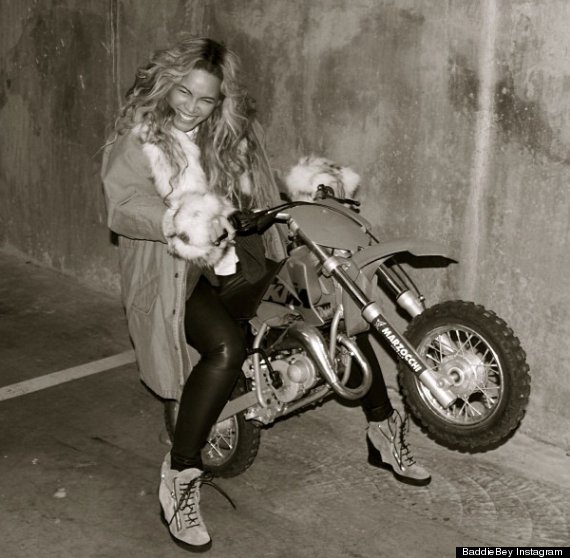 BEFORE YOU GO
PHOTO GALLERY
Beyonce's Outrageous Social Media Pictures