JPMorgan Chase is spending record amounts to influence financial reform, a move that some critics say allowed the London Whale-scandals to remain a possibility.
In 2012, the bank invested $8.06 million in political lobbying, the most in its history, according to data compiled by OpenSecrets, a blog tracking political spending. Part of JPMorgan's lobbying efforts that year centered around the Volcker Rule, a controversial aspect of the 2010 Dodd-Frank Act that would restrict the ability of banks to make bets with their own money, according to The New York Times.
Critics have argued the London Whale trades could have been prevented had the Volcker rule been in place. Others, like JPMorgan itself, say that the $6.2 billion loss that came as a result of the fiasco was just a hedging strategy gone bad.
But before the London Whale scandal ever occurred, Dimon went on record as saying regulators should be careful not to "throw the baby out with the bathwater" by crafting the rule, implying not all banks needed to be protected from the rules harsh limitations.
JPMorgan's political lobbying spending last year increased by $440,000 from 2011 and more than doubled the $3.64 million it spent in 2005, before the financial crisis hit. Yet as the largest U.S. bank by assets, JPMorgan has some money to blow. The bank recently reported a fourth-quarter profit of $5.69 billion, Bloomberg reports.
LOOK: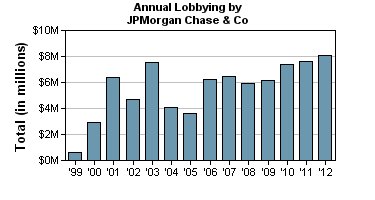 (h/t Zero Hedge)
BEFORE YOU GO
PHOTO GALLERY
Jamie Dimon Hates On Regulation: A History