HuffPost Arts&Culture is celebrating Women's History Month with the help of our favorite artists -- female artists, of course. Every day of March we're rolling out a new key player in the art world with a playing card... Get it? Print them out for your own amazing (although probably a bit flimsy) card deck or use them to stay fresh on your favorite women in art.
SEVEN OF DIAMONDS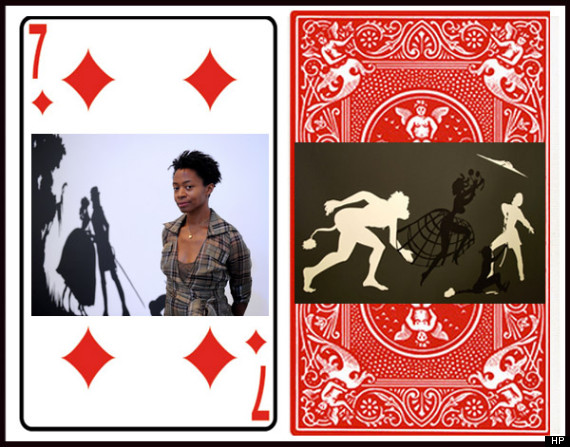 WHO: Kara Walker
WHAT: Walker is known for her cartoonish paper-cut silhouettes exploring narratives of race, gender, desire, violence, racial stereotypes and shame. Her "magic-lantern" projections depict dark scenarios including rape, lynchings and slavery via absurdly cartoonish forms, yielding shocking results. Of her cutting works, Walker explained: "I was really searching for a format to sort of encapsulate, to simplify complicated things...And some of it spoke to me as: 'it's a medium...historically, it's a craft...and it's very middle-class.'"
WHERE: Get a feel for Walker's artworks in her segment on Art21's "Stories" episode.
WHY: Walker, who won a MacArthur Grant at only 28 years old, continues to stir controversy with her powerful works. A drawing depicting oral sex between a black woman and white man was hidden by a cloth at the Newark Public Library until last December. Walker is not one to shy away from controversy, responding: "The promise of any artwork is that it can hold us—viewer and maker—in a conflicted or contestable space, without real world injury or loss."
See more of our playing cards in the slideshow below:
PHOTO GALLERY
Women's History Month Artists