HuffPost Arts&Culture is celebrating Women's History Month with the help of our favorite artists -- female artists, of course. Every day of March we're rolling out a new key player in the art world with a playing card... Get it? Print them out for your own amazing (although probably a bit flimsy) card deck or use them to stay fresh on your favorite women in art.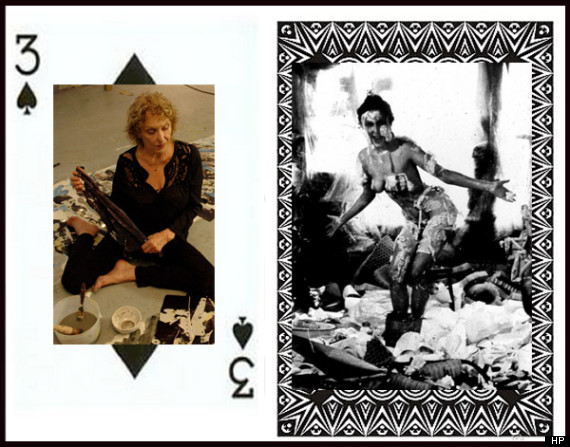 WHAT: Schneemann is a multi-disciplinary artist whose performance pieces exploded taboos surrounding sexuality, gender and the body. One of her most famous pieces is an erotic rite entitled "Meat Joy," celebrating flesh of all kinds-- including raw fish, chickens, sausages, wet paint, transparent plastic and paper. Fluctuating between the erotic, playful and grotesque, the performance merged the sacred and the profane in a revolutionary fashion.
WHY: Why tell you when we can show you? If you couldn't tell from the description, "Meat Joy" is NSFW.
See more of our playing cards in the slideshow below:
Image credit: Front: Schneemann with photo collage, 2011, photo credit: Marielle Nitoslawska
Back: Body Collage, 1968 photo credit: Michael Benedikt